GAS FLARING: FG MAY SHUT OIL FIELDS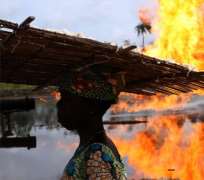 Gas flaring in Nigeria
The Federal Government may shut down some oil fields as it tries to clamp down on gas flaring, even if it means a loss of revenue, the Director, Department of Petroleum Resources, Mr. Osten Olorunsola, has said.
Nigeria is the holder of the world's seventh largest natural gas reserves, however, the country is considered to be among the top two gas flarers in the world, after Russia, burning off unwanted gas,.
'One of the things we are doing is to do some analysis for government, to such an extent that it will even mean a proposal to shut down fields to avert huge gas flaring,' Olorunsola, told Reuters.
'We will probably make that position known to government very soon,' the man appointed last year by President Goodluck Jonathan, said.
Despite a noticeable dip in flaring of associated petroleum gas, produced as a by-product of crude extraction, Olorunsola said the government was unhappy with the pace of decline.
He said Nigeria currently routinely flared between 1.3 and 1.4 billion cubic feet of gas a day, down from roughly 2.5 bcf about one-and-a-half years ago.
Russia flares around 20 billion cubic metres of associated gas each year, or approximately one-third of the total amount extracted at the country's oilfields.
'Over the last few years, we have seen some bit of reduction, but the quantum is not as expected. We want a lot more to come down as low as possible,' Olorunsola said.
A long-delayed Petroleum Industry Bill, currently at parliament, proposes that gas flaring be banned at a date to be decided by the Minister of Petroleum Resources.
Oil majors such as Shell and Total are among the top global operators that dominate the Nigerian oil sector, although smaller companies, including Afren and Oando, are expanding their presence in the West African state.
While the issue of flaring was an industry-wide phenomenon, Olorunsola said the worst culprits were older fields found onshore, which were not fitted with 'gas solutions' when built decades ago.
'So, operationally, it is difficult to retrofit solutions after, but if you consider recent developments, they all had gas solution as part of their development concepts,' he said.
Adding to the desire to capture this wasted gas was the ongoing development of a viable local gas market for Africa's most populous nation, something which was not there previously.
'Today, gas is of value; so, there is a lot of appetite and hunger to actually mop it up,' he said.
Olorunsola had said on October 23 in Lagos that the country's daily crude oil production for the third quarter of 2012 dropped by 500,000 barrels as a result of production shutdown caused by the ravaging floods in some parts of the country.
He said the actual crude oil (plus condensate) production of the nation was 2.5 million barrels per day for the period.
'Flooding in quarter three led to a total shutdown of 0.5 million bpd,' he said.
Some of the companies hit by the flood, according to the DPR boss, are marginal field operator, Sterling Energy, Total Exploration and Producing and Agip.
Olorunsola, however, said the floods were no threats to oil and gas assets in the country in the long-run, as production would gradually pick up as the floods subsided.
According to him, the country's reserves as at January 1, 2012 were 31.170 billion barrels of oil, 5.018 billion barrels of condensate; 92.6 trillion cubic feet of associated gas and 90.150 tcf of non-associated gas.
A major enhancement to deepwater oil production, he said, was achieved when Total's Usan Floating Production Storage and Offloading vessel, with capacity to process 180 million bpd, was inaugurated in April this year.
He said a marginal field player, Niger Delta Petroleum Resources, was currently refining 1,000 barrels of oil per day from its new refinery, which recently came on stream.
Olorunsola said as at Monday last week, oil production had risen to 2.3 million bpd as a result of the decreasing flood level.
'Associated gas flared average was 1.4 billion cubic feet per day, approximately 18 per cent of total gas produced, a reduction of five to seven per cent from the end of 2011 flaring average,' the DPR boss explained