MIKEL ABUSE: POLICE LAUNCH INVESTIGATION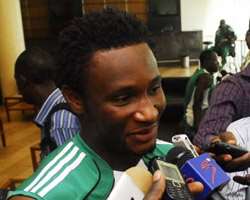 Mikel Obi
A new criminal investigation into racism in English football began on Tuesday when police formally opened a case into claims referee Mark Clattenburg directed ''inappropriate language'' at two Chelsea players during a Barclays Premier League match against Manchester United at Stamford Bridge on Sunday.
Clattenburg is accused of abusing midfielders Mikel Obi and Juan Mata during Sunday's 3-2 loss to United, according to the lawyer whose complaint sparked the police investigation.
A day after the globally televised match, Society of Black Lawyers chairman Peter Herbert said he asked officers to look into whether a ''racially aggravated offense has occurred'' at Stamford Bridge.
The Metropolitan Police responded in a statement on Tuesday by announcing that ''an investigation has been launched into alleged comments made during a football match between Chelsea FC and Manchester United FC.''
Chelsea lodged a formal complaint with the match delegate that saw the FA announce an investigation and Clattenburg stood down from officiating for a week. However the police then became involved after the Society of Black Lawyers demanded they look into whether a criminal offence had been committed.
The letter Herbert, sent to the Metropolitan Police Service reads, 'The Society of Black Lawyers wishes to record the incident that took place at Chelsea FC. Our information is that racist remarks were directed at John Mikel Obi and at Juan Mata. If so, that is wholly unacceptable in any circumstances.
'Although this matter may be investigated by the FA, it is appropriate that the MPS independently see if a racially-aggravated offence has occurred.'
It was also reported by the Daily Mail that Chelsea's players claim to have heard Clattenburg call Mata a 'Spanish t**t', as well as abusing Mikel.
An FA statement on Monday reads, 'The FA has begun an investigation relating to allegations made following Sunday's fixture at Stamford Bridge between Chelsea and Manchester United (Sunday 28 October 2012).
'The FA will make no further comment at this time.'
Meanwhile, the referees' union has pledged its 'full support' to Clattenburg.
Mikel's agent and Chelsea refused to comment further on the matter but the club did confirm they had decided against holding a press conference to preview Wednesday night's Capital One Cup clash against United.
United were similarly taciturn, although it is understood they were unaware whether any of their players heard Clattenburg's allegedly 'inappropriate language' and could act as witnesses.
Clattenburg has already filed what is known as an 'extraordinary incident report', which is understood to mainly deal with a meeting which is alleged to have taken place in the referees' room after full-time.
Chelsea manager Roberto Di Matteo, assistant manager Eddie Newton and chief executive Ron Gourlay were reportedly all present as Mikel angrily accused Clattenburg of abusing him.
The referee, his assistants and fourth official are understood to have been stunned by the claims, with Michael McDonough, Simon Long and Michael Jones denying hearing anything of that nature over the officials' microphone link-up.