FG WILL REHABILITATE ROADS, BRIDGES NATIONWIDE -MINISTER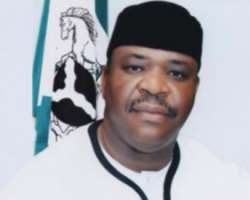 Minister of Works, Mr Mike Onolememen
The Federal Government reopened the Third Mainland Bridge to traffic on Tuesday with a promise to commence work on the rehabilitation of other bridges and roads requiring urgent attention nationwide.
The Minister of Works, Mr. Mike Onolememen, who reopened the longest bridge in the country, which was partially closed to traffic on July 7 to enable the contractor, Messrs Borini Prono Company Nigeria Limited, to replace eight expansion joints for a contract sum of N1bn, said attention would now shift to the Marine Bridge in Lagos and others 'crying for attention.'
'We will move on to other theatres of work because there are other bridges and roads crying for attention. We will visit the other bridges; we will move to Marine Bridge in Lagos,' he said.
Onolememen said the reopening of the Third Mainland Bridge was in fulfilment of his earlier promise to do everything possible to cushion the frustration and other inconveniences that would be caused users by its partial closure, and to complete the project ahead of the November 6 delivery date.
'Today, we have kept faith with that promise, as we draw the curtain on the repair works on the bridge, which will be reopened shortly to road users. Not only was the repair works completed about 10 days ahead of schedule, it was also completed at the awarded contract sum devoid of variation,' he said.
Onolememen     commended  the  contractor for the technology and expertise it brought to bear on the project and the good quality workmanship, and expressed gratitude to the Lagos State Government, security agencies and residents of the state for their cooperation and understanding, while the project lasted.
The minister debunked insinuations that the underwater pillars holding the bridge might be damaged, saying the ministry had commissioned local and international underwater divers to examine the pillars and that their verdict was that they were structurally stable.
He, however, said the ministry would continue to carry  out  routine maintenance of all the elements of the bridge to ensure its longevity.
On the planned reconstruction of the Lagos-Ibadan Expressway by the concessionaire, Onolememen said the Federal Government was determined to ensure that the project commenced before the end of the year.
He said the sections two and three of the Lagos-Badagry Expressway had been given out as a concession to a private firm, which would mobilise funds to execute the project, adding that the Federal Government was discussing with the state government to find ways of ameliorating the sufferings of the users of the road.
The Lagos State Government had begun fixing the Lot 1 of the road from Orile to Festac Town into a 10-lane structure with provision for a light rail line and Bus Rapid Transit system lane.