RE: OKONJO IWEALA: NIGERIA'S WEAKEST LINK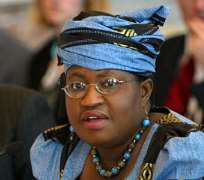 My attention was drawn to an article (Ngozi Iweala: Nigeria's Weakest Link) by one Sonala Olumhense. After reading the piece, I concluded that only someone who has absolutely no regard for conscience and truth could have attempted to create such large-scale deception as is being peddled by the writer of this malicious article. It is indeed amazing the extent some people can go just to bring themselves to limelight.
The efforts of Ngozi Okonjo-Iweala to reinvigorate the economy and fight corruption have been widely acknowledged by Nigerians and the world at large. Therefore, such a prejudiced concoction, as Olumhense's, is not just a distractive tactic but also a tit-for-tat attempt in connivance with corrupt individuals in high places, whose evil machinery has been grounded by this exceptional woman. Indeed, this is another manifestation of the Nigerian analogy that when you fight corruption, corruption fights back!
Without much ado, I will like to examine the ten points on which Olumhense premised his baseless case.
Point One: His report on the failure of the National Economic Empowerment and Development Strategy (NEEDS) is a blatant lie. Under this programme, Nigeria was able to pay its debts arrears owed to some International Finance Institutions (IFIs), particularly the Paris and London Clubs via: (1) Direct repayment where $6.4b was paid (2) Debt buy-back arrangement where $8b was settled at 25% discount, and (3) Debts write-off where $16b was written-off by the creditors. The entire Paris Club debt relief enjoyed by Nigeria totalled US$18b, or a 60% for a US$12.4b payment of arrears and buyback. Similarly, the debts owed to London club commercial creditors were also restructured and paid off. The domestic debts constituting about 12% of GDP in 2005, owed to contractors and civil service pensioners were systematically paid.
Other economic spheres where NEEDS recorded appreciable achievements include fiscal and monetary policies. Public spending was reduced from 47.0% in 2001 (before she assumed office) to 35.4% in 2004, which resulted in budget surplus of 7.7% of the GDP for 2004, up from deficits of 4-5% of the GDP in 2002-2003 (USAID, 2006). The list is endless. Anyone can search the records and see for themselves.
Point Two: Sonala claimed that billions of naira was drained and is still being drained into the poverty eradication programme involving 13 federal ministries. However, this is another vituperative attack against the person of Okonjo-Iweala. How could he possibly link the Finance Minister with the performance or otherwise of 13 other ministries in such a direct manner? As the Coordinating Minister of the Economy, she is supposed to carry out oversight functions – and that she seems to have been doing quite well. Her efforts to ensure that MDAs deliver have been widely acknowledged. Ministries, departments and agencies that are not living up to their billing are constantly being checked. It is only fair to acknowledge that, in spite of the challenges of corrupt officials who may be trying to divert the poverty eradication funds, the programme has recorded a commendable degree of success in the areas of youth employment, rural infrastructural development, social welfare services and national resources development.
Point Three: The writer also claimed that in the negotiations with the Paris Club, one "top member" of the government walked away with a personal fee of N60 billion. He went on to indict former president Obasanjo and Okonjo-Iweala claiming that none of them had ever challenged it, as if that would validate his spurious allegations. Obviously, madam minister has enough work on her table and is more concerned with serious matters of state to be taken in by such rootless ranting. How can someone who prides himself as a neutral social critic make such bogus claims as these without backing them with concrete facts? Who is the "top member" of the government that walked away with a personal fee of N60 billion? I dare Olumhense and his sponsors to name the person if indeed his claims are true. It is only unintelligent people like Sonala who would make stupid accusations like that in a process that is vetted internationally.
Point Four: The success of the MDG programme is another area where the writer of this malicious article has chosen to ignore the facts. Apart from the records, which are readily available, the impact of the MDG programme has been widely felt across the nation. Ask the students who now have new classrooms, or the rural dwellers that have now have access to basic facilities including well-equipped health centres. Time and space will not permit me to give a detailed analysis via this medium. But, really, how necessary is that when anyone can easily check the facts for themselves?
Points Five and Six of Olumhense's article refer to Okonjo-Iweala's tenure as finance minister during the Obasanjo regime without due recourse to the fact that she left that office in 2006. For conscience's sake, you cannot hold her responsible for events that transpired when she was not in office!
Point Seven: Olumhense wrote, In a speech after she left office, Mrs. Okonjo-Iweala said: "General Abacha looted about $3-5 billion from the Nigerian treasury in truckloads of cash in foreign currencies, in traveler's checks and other means. Most of these monies were laundered abroad through a complex network including some of the world's best known banks." Now, how does that prove his point? Isn't it obvious that this writer is only attempting to insult our intelligence?
Point Eight: Olumhense wrote, the pioneer chairman of the Economic and Financial Crimes Commission, and a very close friend of Mrs. Okonjo-Iweala, has confessed that the Obasanjo government was more corrupt than that of Abacha. This is another serious blunder. I thought the EFCC is saddled with the responsibility of stemming the tide of corruption. Since when has that become part of NOI's job description? Even at that, her relentless commitment to tackle corruption has been so effective as to have earned her the name "Okonjo Wahala" by those whose corruption coffers are being ripped open.
Point Nine: Obasanjo was said to have indicted Mr. Jonathan's government of squandering $35 billion of Nigeria's foreign reserves since May 2007, saying the money may have been "shared." This is another lame point begging for validation. It is too bad that Olumhense would use this as a point against the Finance Minister, thinking Nigerians would be as gullible as himself to accept it hook, line and sinker. If he possesses such evidence of corruption against Mrs Iweala, then his patriotic duty is to report her to the EFCC. People like him are responsible for the persistent lack of progress in Nigeria, because they will rather have a mediocre in charge of the economy.
Point Ten: The writer's claim that the 'Transforming Nigeria Document' is not yet available is the easiest pointer to his malicious intentions as the article has long been published and has been in the public domain for nothing less than seven months. Anyone can simply Google and download the document from the National Planning Commission website: http://www.npc.gov.ng/vault/Transformation.pdf.
How come Olumhense did not see all the good things being done by the Finance Minister? Why did he not mention the reduction in recurrent expenditure, the bringing of oil subsidy profiteers to book, the ports reform, the Sovereign Wealth Fund, the poverty eradication and women empowerment policies and other good things being implemented by the minister? Olumhense is like the proverbial loafer who, whilst ignoring the life-sustaining functions of the sun, frequently complains that it casts shadows. Sonala Olumhense and people like him must realize that any fool can criticize, condemn and complain.
I pity the future of this country with people like him wielding whatever modicum of influence they have on hapless Nigerian readers with the liberty that their pen – or more appropriately – their computer and internet modem afford them. Olumhense's argument is warped and his reasoning debased. People like him don't amount to much on a penny worth of paper. And they make far worse administrators than the people they set out to criticise. It is obvious that Olumhense is the weakest link in all of Nigerian media given that he is an outright liar!
Written By Ayodeji Sunday

Disclaimer:

"The views/contents expressed in this article are the sole responsibility of

thewillnigeria.com

and do not necessarily reflect those of The Nigerian Voice. The Nigerian Voice will not be responsible or liable for any inaccurate or incorrect statements contained in this article."
Articles by thewillnigeria.com