Governor Suntai Airlifted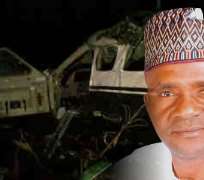 SAN FRANCISCO, October 26, (THEWILL) - The governor of Taraba State, Danbaba Suntai, who was involved in a plane crash on Thursday night has been airlifted in an air ambulance to Abuja from Yola.
THEWILL could not independently confirm if he would be flown abroad after President Goodluck Jonathan Friday said he would be treated locally for injuries sustained.
Danbaba Suntai was transported to the airport in an Ambulance accompanied by medical personnel at about 12.15 under very tight security. The air ambulance departed Yola at 1.pm.
THEWILL can however report that the governor is conscious and responsive but has a fractured right hand, cuts and bruises to the face.
Other persons in the plane are still being treated in Yola.
THEWILL can also report that the governor's ADC is still in critical state and being closely observed at the federal medical centre in Yola.
A doctor at the hospital said he was operated on and would remain in the intensive care unit of the facility.
The 6 persons on board the plane including crew survived the crash.