Clinton urges Overhaul of Nigerian Elections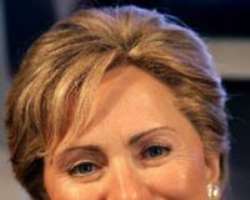 Secretary of State Hillary Clinton condemned Nigeria's electoral process and high levels of corruption, while pledging U.S. assistance in improving the system and efforts to bring peace to the volatile and oil-rich Delta region.
During a town-hall meeting in the capital city on Wednesday marked by hooting and clapping, Mrs. Clinton urged Nigeria to fix its "flawed electoral system." The meeting, which was by invitation, included democracy activists, several state governors and business leaders, including the country directors of U.S. oil companies Chevron Corp. and Exxon Mobile Corp.
She said that Nigeria had the potential to be a member of the Group of 20 countries, "but -- a big but -- the corruption reputation ... it is a problem."
On the fifth stop of her seven-nation African tour, Mrs. Clinton said that Nigeria and the U.S. plan to form a "binational commission" to address several issues affecting Nigeria domestically, including electoral reforms. She didn't give any other specifics.
Nigeria is the fifth-largest supplier of oil to the U.S., and its light sweet crude oil is prized for the ease with which it is converted into gasoline.
Mrs. Clinton met with President Umaru Yar'Adua, whose 2007 election was condemned as flawed by local and international observers. She praised the president for his plans to offer amnesty to militants in the Delta region as a step toward improving stability there. The government said it hoped the plan would bring peace to the region by year-end.
Mrs. Clinton said the defense minister offered "specific suggestions," on how the U.S. could help bring stability to the region, according to the Associated Press. She said the American and Nigerian militaries would discuss how the U.S. might help.
When asked during the town-hall meeting if the U.S. would do anything to stop corrupt Nigerian officials from traveling freely to America, Mrs. Clinton said, "We are in a position to take action; there are several options available to us." She didn't elaborate and said she would first continue to urge Nigeria to reform.
Nigeria is the most populous nation in Africa and was its biggest oil producer until it recently was overtaken by Angola. But Nigeria faces numerous domestic problems. Unrest in the oil-producing Niger Delta, where militants have shut down production of more than one million barrels a day of oil with pipeline attacks, has cost the government billions of dollars in revenue and dented foreign investor interest.
Clashes last month between a homegrown Islamic fundamentalist sect and security forces in northern Nigeria left more than 800 people dead, including the group's leader, who was killed while in police custody.
The sect, known as Boko Haram, meaning "Western education is prohibited," has attracted a following over the past several years amid poverty and disillusionment with local political and religious leaders.
Mrs. Clinton said during the town-hall meeting that Nigeria's "lack of transparency and accountability has eroded the legitimacy of the government and contributed to the rise of groups that embrace violence and reject the authority of the state."
In remarks earlier Wednesday, Mrs. Clinton also raised the possibility of a link between al Qaeda and the recent violence.
"There is no doubt from our assessments that al Qaeda has a presence in northern Africa, in the Sahel," she said. "There is no doubt in our mind that al Qaeda and like-organizations that are part of the syndicate of terror would seek a foothold anywhere they could find one. ... Whether this is a homegrown example of fundamentalist extremism, that is up for the Nigerians to determine, but I understand the very important priority the Nigerians place on keeping the balance of religious and ethnic groups."
There is no known link between Nigerian groups, including Boko Haram, and al Qaeda.
By: Will Connors