Security Operatives Comb Abuja As Clinton Arrives Today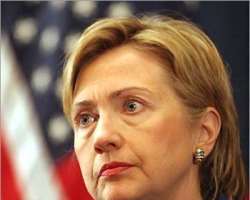 By Paul Ohia, Abuja
Security operatives from Washington, D.C. have combed the length and breath of Abuja especially the areas surrounding the Nnamdi Azikiwe Interna-tional Airport, for the visit of former first lady and United States Secretary of State, Hillary Clinton.
Clinton will arrive in Nigeria today in the last lap of her seven-nation tour of the African continent. She is expected in Abuja by 8:35 pm Nigerian time from the Democratic Republic of Congo (DRC).
Foreign ministry sources told THISDAY that arrangements are in top gear to receive Mrs. Clinton who visited Nigeria with her husband during his time as President of the US.
She will be meeting President Umaru Musa Yar'adua, foreign minister, Ojo Maduekwe, members of National Assembly and some civil society groups. The meeting with the civil society would likely take the shape of interactive town hall meetings.
Chairman House Committee on Diaspora, Hon Abike Dabiri-Erewa confirmed to THISDAY yesterday that her committee would be part of the meeting since there are many Nigerians living in the US.
During the visit, the Mrs. Clinton is expected to hold discussion with President Yar' Adua on a number of issues affecting both countries.
Tomorrow, the Secretary of State is expected to be hosted at a breakfast meeting by Maduekwe at the minister's residence.
The town hall meeting has been scheduled to take place at the Yar'Adua's Centre on Thursday to be attended by only select civil society groups.
An insight into what her discussion with Nigerian leaders and civil society groups would focus on were given by Princeton N. Lyman, an adjunct senior fellow for Africa at the US Council on Foreign Relations.
According to the scholar, among all the nations visited and to be toured by Mrs. Clinton in Africa, Nigeria is in considerable difficulty.
He acknowledged that those who follow Nigeria are more worried than they have ever been.
"There is a weak government right now. In the last election, President Umaru Yar'Adua was elected.
It was a very bad election. You've had three successive elections in Nigeria and each was worse than the previous."he said.
According to him, corruption would worry Mrs. Clinton coupled with the fact that Yar'Adua's ill health makes him not to be very strong.
He also mentioned that one of the problems in Nigeria is the Niger Delta where the oil is produced.
"There is a long history of environmental devastation, discrimination, poverty, etc. This is an area that feeds the whole country's wealth but they are probably some of the poorest people in the country." he said adding that the militia that claims to be fighting for justice engage in bunkering which is to steal large amounts of oil and "through corrupt officials in the military in the area, you get that oil out and buy ever more sophisticated arms."
Amongst other teething problems he said the visiting envoy should harp on is the fact that in the north, an extreme radical group that was a rather marginal one a few years ago launched attacks in three cities.
"The underlying problem, which is as worrisome as anything else, is that Nigeria has failed over the years to develop its own infrastructure. For example, they produce now 6,000 megawatts of power; South Africa produces 40,000."
He noted that the power deficiency had led to closure of domestic industries.
He lamented that the Nigerian government is not listening.
"What the secretary will find is that under this government, Nigeria is not projecting itself as it did under the previous president." he concluded.
|
Article source