Police Detain Coxson Lelebori Lucky, Alleged Mastermind Of UNIPORT Lynching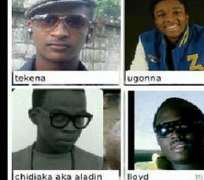 SAN FRANCISCO, October 16, (THEWILL) – The police in Port Harcourt Tuesday announced the arrest of Coxson Lelebori Lucky, alias 'Bright', the alleged mastermind of the barbaric and outrageous lynching of four wrongfully accused students of the University of Port Harcourt who were pummelled and lighted by villagers of the Omukiri-Alu in Ikwerre Local Government Area of Rivers State, on October 5, 2012.
Police investigations said the four students namely: Ugunna Obuzor - aged 18 Years; 200 Level Geology student; 
Lloyd Toku - aged 19 Years; 200 Level Civil Engineering student; 
Tekena Elkanah - aged 20 Years, a Diploma Technical student; and Chiadaka Odinga - aged 20 Years, 200 Level Theatre Arts student, had gone to demand a debt from Coxson, who later raised a false alarm that they were robbers. 

Over 18 persons have been detained following the incident including Alhaji Hassan Welewa, the Traditional Ruler of Omukiri Community and some members of the vigilante group of the community who played a key role in dastardly act.
The Police Inspector General, Mr. Mohammed Abubakar in a statement in Monday said intelligence report implicated Alhaji Hassan Welewa, as being the person who incited the mob to unleash terror on the victims.
Police also announced that four persons in custody namely: Felemo Solomon; Cynthia Chinwo; Ozioma Abajuo and Chigozie Samuel Evans have been closely linked to this barbarous act.