Who Will Save Celebrity Marriages?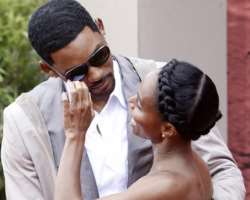 Millions were shocked to hear last week, that the Smiths have ended their marriage. But the pair were quick to comfort fans with a statement saying they're still together...
At a time when global moral values are on a rapid decline, it is not surprising that the nuclear family structure, and the conventional marriage institution, is greatly endangered. Marriages appear to be breaking up more than ever before. Single parenting is on a steady rise while the number of young people who are developing a phobia for marriage is alarming. For those who get married, and indeed, the marriages that seem to 'survive', stories of trouble abound: married couples now cheat on each other with reckless abandon; the rate of spousal abuse is on the high; some of those who stay on do so for reasons other than those for which the marriage was contracted.
It is even worse for Celebrity marriages. Way before Ayinla Kollington and Salawa Abeni, celebrity marriages have been known to be painfully ephemeral. Clashing Egos. Conflicting schedules. Issues of Control, Money matters, Domestic priorities, Internal complex, Cheating. Communication crisis. Just like any other marriage, the list of what can possibly go wrong is unbelievably long. And just like any other marriage, there are possibilities of external influences: friends, siblings, parents, neighbours, mentors etcetera.
What's different for Celebrity marriages is the huge interest of fans and the media in their affairs. A little spat at the departure lounge, or a one-week mutually-agreed separation can turn into a media scandal of great proportions if care is not taken. Poor media handling, common in these parts, makes matters worse, causing us to lose some of our favourite couples in the process.
And it's rather troubling that the break-ups move quickly from separation to divorce proceedings, with communication between the partners totally broken down in some cases.
The nightmare of the Alec Godwin-Kefee scandal is still fresh in our memories. Femi and Funke Kuti, who recently filed for divorce, broke our hearts when they separated years back. Frank Edoho and his wife Katherine are currently going through the trauma of separation and pending divorce. Same for 9ice and Toni Payne, Ara and Nurudeen and several others. Other victims include Edward Ashiedu and Kenny St.-Brown, Iyabo Ojo, Monalisa Chinda (and her ex-husband Dejo Richards, who has since remarried), Soul E and Ure Okezie, Goriola Hassan and Ayo Adesanya, Bukky Wright (who's been through at least two divorces with prominent celebrities), Stella Damasus and Nzeribe, and many, many more.
The recurring cause in most of these break-ups: Abuse and cheating. The resulting chaos makes life difficult for the offspring and other close relatives; while the negative publicity throws a huge question mark in front of the word 'marriage'.
Abroad, more and more celebrity marriages are failing too – the most recent being those of Maria Shriver and Arnold Schwarzenegger, Elin and Tiger Woods, J-Lo and Mac Anthony. The shock of the Kimora Lee and Russel Simmons divorce is yet to fade away; as more and more celeb marriages collapse like a pack of poorly-arranged cards. Many are now staying away from the institution. And those who go on, go in with signed pre-nuptials, and lawyers on standby.
If the marriage institution is to be saved, we will need to pay serious attention to this extremely worrying situation, and seek for practical ways to make celebs live by example and make marriage work. Youngsters look up to pop stars, actresses and other entertainers; fashioning their lives after these 'models' and hoping to someday be like them. Imagine the effects of the Kefee divorce or the Frank Edoho scandals on their fan-followers?
The media, religious organizations, NGOs, immediate and extended families and other stakeholders have very vital roles to play. Celeb Couples also need to go into marriage for clear reasons, understanding the intricacies of their profession and status, and appreciating the fact that what happens in their lives will by effect, influence millions around the world, and by extension, society at large.
It would be nice if we can also take lessons from the likes of Tunde and Wunmi Obe, Joke Silva and Olu Jacobs; and others who have, despite all odds, kept their union strong and safe…