Chibok: Govt kicks off Safe School Initiative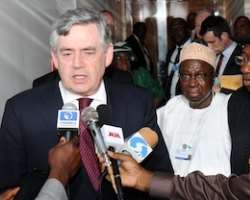 The Federal Government has kicked off the Safe School Initiative, a programme designed to build confidence in young Nigerians and their parents towards going to schools, especially in parts of the country with security challenges.
The Minister of Finance, Dr. Ngozi Okonjo Iweala, announced this on Tuesday after a meeting of the President with Gordon Brown, former British Prime Minister, who came as an envoy of the Secretary General of United Nations.
She said a trust fund with N1.6 billion deposit has already been established to fund the initiative, adding that, the private sector will also contribute N1.6 billion to the trust fund.
The United Nations had mooted the establishment of the initiative in the wake of the abduction of over 200 girls in Chibok, Borno State.
President Jonathan had at the World Economic Forum for Africa held in Abuja in May announced a pledge of $1 million to the fund.
The former British Prime Minister had earlier during the Forum said the initiative will be private sector driven.
'We are intent on trying to make sure that our children in the states have an environments which they can come back to school and not have their education truncated,' said Okonjo-Iweala, who added that Brown is going to be raising some resources while the governors of the affected states are also going to put in commitments.
The initiative will kick off with the three States that have the lowest school enrollment figures in the country, which are Borno, Yobe and Adamawa states.
The governors of Borno and Yobe were part of Tuesday meeting with the President. Speaking with reporters after the meeting, the former British Prime Minister said that the 'Safe Schools Initiative' is aimed at building confidence in young Nigerians and their parents about going to schools.
'Every child is special, precious and unique. I have come here with the UN Secretary General Ban Ki moon giving me his support, to send our sympathies and our solidarity and our support to the children of Chibok who have been cruelly kidnapped and abducted and to give our support to the families of these girls and to the whole communities in Borno state.
'And I am here to say that we wish as an international community, to do everything we can to back up the efforts of President Goodluck Jonathan and the governors of the states to make sure these girls are returned to their families and at the same time to make sure that every parent feels that they can send their children to school, knowing they will be safe in future.'
He added that the Safe Schools Initiative will be launched soon, since President Jonathan has already accepted to set up special fund that will allow the international community as well as local donors contribute to making schools in Nigeria safer.
According to him, the programme is for the whole country, but will take off in the states which have the greatest problem with terrorism in recent months.
'It is our determination as an international community, to help the families feel secure about their boys and girls going to schools, with the hope that they will be safe. That is why we are looking at security for the schools and how we can help the governors and how we can help the Nigerian people with fortifications, telecommunications, guards, safety equipment that will enable people feel safe and more secured in the schools.
'We also want to help to rebuild Chibok schools because we want parents of that area to be sure that when their girls are released, they can come home to a school that is rebuilt and safe.'
Brown added that under the initiative, schools that have been demolished, burnt down or vandalised will be rebuilt.
'We want to help Nigeria which is a great country, with a great future and wonderful potentials, to enable it so that the ten and half million boys and girls who don't go to school today will be able to go to school.
'And I can assure you that around Europe, Asia, America and Latin America, there is massive support for Nigeria in this hour of difficulty: facing terrorism and also in its ambition to be such a great country with great educational standards.'
The Governors of Yobe and Borno States pledged to work to make the programme a success.