Exclusive Video Of Mercy Aigbe's Interview
MY HUSBAND ACCUSES ME OF SLEEPING WITH EVERYBODY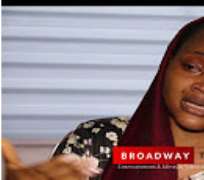 When she walked into our office shortly after the first court hearing with her now estranged husband over alleged battering,Mercy Aigbe's look and mien were in sharp contrast to the happy girl, vivacious and 'slay mama' reputation she has.
Mercy looked beaten, battered and broken. The visible black pouch under her left eye bears screeching testimony to her present struggle and tales of a survivor. Popular actor, Mike Ezuruonye who was in our office as at the time she came in couldn't believe his 'eyes'. It appeared he was looking at another Mercy Aigbe. A 'Mercy' who bore no resemblance to the queen on the screens. He kept muttering to himself, 'whoever did this to Mercy is a monster. This is unbelievable'.
Truly, Mercy's present state and predicament are unbelievable. Three years ago, she and estranged husband, Lanre Gentry jointly produced a video to debunk rumours of domestic violence. Mercy has consistently portrayed the image of a happily married actress. She is often referred to as an actress with 'marriage goal' in blogsphere.
For the uninitiated, this popular Nollywood actress, Mercy and hubby, Lanre Gentry have been in the news for the wrong reasons. Lanre has been accused of beating Mercy to a pulp and dangerous bend. According to the actress and based on medical reports we sited, certain muscles are trapped in the orbit of her eyes and she coughed blood consistently during the near one-hour interview she reluctantly granted BROADWAY TV.
In this tear-filled interview, Mercy remains inconsolable and sad that her seven year marriage is headed for the rocks. However,she firmly believes it is better for one to lose her marriage than gamble with the gift of life while trying to keep up appearances. Mercy Aigbe is a convert. Yes. A convert to the cause to say 'NO' to all forms of domestic violence in Nigeria.In her own words,she intoned,'I thought I was going to die during the last round of beating he subjected me to.' The traumatic experience still brings palpable fear to her eyes as she narrates the events. Not one soul in the office of BROADWAY TV was left without a tearful eye after the interview.
It was obvious after the interview that she had been doing a lot of cover-up, served us false 'couple's goals' slogans for years and has a lot of sorting out to do (legal, medical and professionally.
WATCH FULL INTERVIEW

alao arinola amudala | 7/5/2017 1:06:00 PM An interview is a conversation in which the interviewer questions the interviewee in order to gain information. Interviews can be formal or informal, structured or unstructured.
JINADU OYINKANSOLA | 6/27/2018 7:45:00 PM When speaking to the public, holding interviews or talk shows there are certain things that are expected of us. First, no one is saying that we should completely put aside our natural accent, all we are saying is that we should speak appropriately following the right diction. Choosing words carefully is important when carrying out talk shows or holding interviews depending on the situation and purpose at that moment. Judging from this article, asking Mercy Aigbe wrong questions in that state wouldn't have ended too well. Making her calm and comfortable would have been the best thing to do first.