I Almost Lost My Testicles On Set – Festus-kator Inyon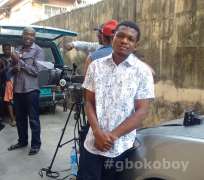 Nollywood actor FESTUS-KATOR INYON in an interview with us earlier today expressed how challenging it was for him while playing the role of Tyovenda. He could not hide but review to us a lot about himself and the industry, how passion have been sustaining him in the world largest motion picture producing industry. The multi-talented actor whose style of line rendition remains a unique intrigue is gradually carving a notch for his career following the same style that brought out so many acts like Funke Akindele Bello (speaks with Yoruba accent), Funky Mallam (speaks with Hausa Accent), Imeh Bishop Umo (speaks with Ibibio accents), Chigurl (speaks with Igbo Accent). Festus-Kator renders lines typically with the core Tiv man accent comically. The handsome Thespian really entertained us and yes he made some revelations (wink)...
NOLLYWOODONSET: Hi Festus!
FESTUS-KATOR INYON: hiiiii! Girls…
NOLLYWOODONSET: Lets know you more please.
FESTUS-KATOR INYON:
I am Festus-Kator Inyon, from Benue State that's middle belt Nigeria. The first son from a polygamous home, I grew up with my late grandma in Aliade Benue state and my dad in Kaduna afterwards. I graduated from Benue State University where I studied Theatre Arts. I speak Tiv, English, Hausa and a bit of Igbo, Yoruba and Ibibio.
NOLLYWOODONSET: did you choose to study Theatre Arts or the normal Nigerian system Hmm... you know na compelled you to?
FESTUS-KATOR INYON:
I applied for it, I have always longed for acting and writing. Lots of people tried to persuade me by calling me names saying you are too good at this and that why don't you forget this kpingi (dance) thing, during my senior class days it became obvious I had made my mind to go for Theatre Arts. They ask why and I say because i can bring to life what is in someone's mind, someone's imagination, someone's story, because i want to keep people entertained, laughing while I still use the same medium to educate them to correct ills in our society, to bring out the hidden beauty in our culture, also because I learn a lot as an actor/writer and i enjoy the life of an actor/writer more than anything.
NOLLYWOODONSET: what is your driving force?
FESTUS-KATOR INYON:
Ehm! That would be passion, coupled with determination and focus. But not without God's divine grace.
NOLLYWOODONSET: you seemed prepared for this (acting). How have your journey been so far?
FESTUS-KATOR INYON:
Yes I am prepared. Mine has been a lot more of a smooth sail hahahaha… just kidding it's been really demanding, challenging and disappointing at some point. Believe me I have been bounced several times by big time producers/directors, one I never forget is when I brought the idea of venturing into the rich Tiv comic lifestyle and accent to a renown director, the respond I got was so terrifying I had to make a decision to work towards projecting this idea myself. That decision lead me to my first lead role in Gboko Boy.
NOLLYWOODONSET: You made mention of your lead role in the movie Gboko Boy can you please tell us more about it?
FESTUS-KATOR INYON:
Hmm I played the role of TYOVENDA a young naïve determined Tiv guy who migrate to Lagos in search for greener pastures only for circumstances to play in and have his fate twisted, still on still he refuses to accept defeat. Gboko Boy features celebrities like Shan George, Kevin Ikeduba, Kepy Ekpenyong etc supported by Bank of Industry. The shoot was really challenging, the entire team understood the story and we all agreed not to compromise on anything, several times I and some others got injured. In fact there was a scene between me and Cindy (Cassie Daniels) where I received the realest beating of my life, I almost lost my testicles when one of the ladies grab my balls. Mehn it was painful Lol it wasn't just pain it was also fun though.
NOLLYWOODONSET: about the grabbing how did you feel? Did you scream? Shout? Got angry?
FESTUS-KATOR INYON:
No why should i? I mean it was painful I actually got upset with Tunde Apalowo the director but it wasn't totally his fault and we rolled. And that's where passion comes in, it makes life activities less of a burden, do it with passion or go home. That's me.
NOLLYWOODONSET: What are the challenges face as an actor?
FESTUS-KATOR INYON:
There are challenges in every career. Acting or movie making is no difference. As an actor be prepared first to face scrutiny of every moment or aspect of your life. Be prepared to be misquoted by our self-acclaimed social media journalist or bloggist, Several people will misunderstand you, I mean even your family members, fellow actors, your fans most times due to expectations and assumptions. Myself have been into few of them. On a general note It's somewhat not just a roller coaster ride. But like I said "PASSION", It keeps you believing. Pushing and focus even in the face of disappointments, I tell myself that fake people are bound to come but stay true to your goals and have fun.
NOLLYWOODONSET: What future do you envisage for FESTUS-KATOR INYON in the motion picture industry in a year or two?
FESTUS-KATOR INYON:
I see hard work, busy schedules and celebrations. You are welcome to join me (winks, all laugh). In two years I see awards, better Festus and bigger my fans. I see Hafnium Entertainment doing wonders.
NOLLYWOODONSET: you made mention of being in misunderstanding, care to share?
FESTUS-KATOR INYON:
Hmmm I see a set up here o. (all laugh). I will only share one moment. While acting during my university days, a lady I acted with misunderstood my feelings to real life and when I noticed this, It was difficult to manage our working relationship to a point I had to open up to her. She understood me but it took me a lot of sacrifices that I will not say (wink).
NOLLYWOODONSET: That's a good one. Do you consider yourself lucky? Consideration your fast rise.
FESTUS-KATOR INYON:
Nope! I don't consider myself lucky, I consider myself blessed by God with creative writing and acting prowess. It's a big deal in this era and I'm glad to be part of the industry now that the African cinema has a worldwide recognition. I pray for the Grace to be able to use my talent to impact the world. To change the feel of filmmaking in this part of our world.
NOLLYWOODONSET: Amen. Any reservation about Nollywood industry, celebrities, fans, upcomings, media, ETC?
FESTUS-KATOR INYON:
Errrrrm, We all have our shortcomings and I think the fans tend to forget sometimes that celebrities are human beings and most times expect too much. It is important to know that as a public figure, a lot of people look up to you, so you ought to be cautious of everything you do. Upcomings and media wants the same thing; fame, so they most times tend to do anything to get it. It shouldn't be by force if you are really talented just work your way up through auditions and true journalism.
NOLLYWOODONSET: Any special comment for people expecting to watch Gboko Boy?
FESTUS-KATOR INYON:
My name have completely been changed to Gboko boy hahaha. Sincerely I am not blabbing neither am I saying what is not on ground. Gboko Boy (pause). This isn't one such films you watch and forget, it will stick in your memory cause you will return to watch it twice at least. If you know how funny the Tiv people of Benue accent is then you have a clue of what I am saying. But the story isn't even about the accent it just a part. Gboko Boy will be in cinemas soon. Watch out for release date via @nollywoodonset on instagram.
NOLLYWOODONSET: Hmm we are anticipating already, because personally I can't wait (all laugh). On a serious note your simplicity and humility is impeccable if I must say. It's been nice chatting with you. Thanks for your time (smiles, exchange handshakes).
FESTUS-KATOR INYON:
Awww really? I'm blushing. Thanks. anytime I am just a call away (smiles).