Obasanjo Worsened Internal Democracy In Political Parties - Na'Abba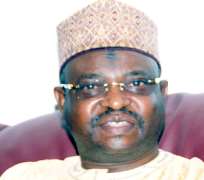 SAN FRANCISCO, October 01, (THEWILL) – Erstwhile Speaker of the Federal House of Representatives, Hon Gali Umar Na'Abba has described the country's 13 uninterrupted years of democracy as a waste because the Peoples Democratic Party (PDP) and all other political parties have failed to adopt internal democracy as their cardinal watchword.
Na'Abba, who was speaking on Monday at a press conference at the Kano State secretariat of Nigeria Union of Journalists (NUJ), criticised the parties for failing to work for the interest of the common man, and Obasanjo for his eight years of rule that only worsened internal democracy in the country.
"In the 13 years of democracy, the country has gotten poorer and poorer despite the availability of enormous resources. It is as a result of bad leadership. We can't get good leadership because there hasn't been internal democracy, and this has seriously affected the country," he said.
"Former president, Chief Olusegun Obasanjo failed on this ground because he turned the PDP to his personal enterprise and as well engaged proxies to work for his interest in other political parties. Unless politicians allow internal democracy to work effectively, there would be no development in the country."
Na'Abba stated that all political parties are guilty of the attitude, categorically singling out PDP.
"Obasanjo's name must be mentioned as a reason why internal democracy has not thrived in the country. This was a man who took control of the PDP and made sure he took absolute control of other political parties, including the opposition parties during his tenure," he said.
"I made a move to impeach Obasanjo then basically because of his negative attitude to overall development of the people and the country, and not on grounds of personal differences. Obasanjo's tenure messed up the whole country; he ran Nigeria as his personal enterprise and made politics to become personalised and privatised. He turned politics into an industry."
Na'Abba equally expressed worries about the belief that people can contribute to the development of the country only when they are governor, president or local government chairman, and lamented that many political office holders are actually motivated by the will to steal and not the intention to live for people.