We Don't Celebrate Nudity - MBGA organiser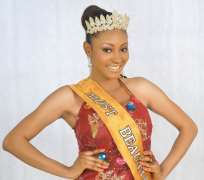 EJIRO OKPIHWO is one of the Directors of Dolce Entertainment, organisers of the Most Beautiful Girl in Abuja (MBGA). He is the project director of the annual beauty pageant in the nation's capital. The Delta State-born showbiz impresario spoke exclusively with WALE ODUNSI on the upcoming event, the idea behind the project and how it all began.
Excerpts:
How long have you been in showbiz?
I have been in showbiz for fourteen years but the Most Beautiful Girl in Abuja beauty pageant has been in existence for over a decade. I am extremely delighted that the event has earned a good reputation throughout the federation. This year's edition is the twelfth and it promises to be the most glamorous of all. It is scheduled to hold on Saturday October 20th 2012 at the prestigious Transcorp Hilton, Abuja.
Tell us how the idea of MBGA transpired?
(smiles) MBGA is indeed a dream come true. It all started when I was in the university. I organized the Miss Campus show which got me massive accolades. When I graduated, we successfully held the first edition of MBGA in 2001. It was a huge success so I said to myself 'this can be achieved annually'. From that point, we never looked back; we have kept the flag flying till date. All thanks to Almighty God.
What makes the event different from other beauty pageant?
The Most Beautiful Girl in Abuja (MBGA) beauty pageant is a unique because we place a great value on respect for womanhood. We don't celebrate nudity like some other organisers do. Even in segment where the girls need to show their body, a good part of the skin is covered. More so, we don't delay presentation of gift and rewards. We are lucky to have wonderful partners, sponsors/supporters, so whatever is due to the finalists and eventual winner is fulfilled at the appropriate any without delay whatsover.
How have you been able to sustain the event and its uniqueness?
Well, once again I say a very big 'thank you' to God Almighty. I always say this: In Nigeria no one wants to join a train when the train is moving slow; it is when the train is already too fast you will see our people struggling to join. What I mean is this: When you start anything small in Nigeria no one wants to support or join you until you become a success. We have been able to sustain its uniqueness by staying true to our ideals which is showcasing the beauty and brain of the young Nigerian woman.
What should we expect this year?
This year's edition is going to be a mind-blowing event. We have put in place so many things to guaranty a hitch-free show. We can't wait to thrill whole of Abuja. We are excited about our achievements thus far. You may wish to know that MBGA is most glamorous beauty pageant event in northern Nigeria; it attracts huge audience within Abuja and beyond. Our records speaks for us.
Your final words?
To everyone, whatever you are doing in life, please remain focused. It may take time but when you are consistent, in the right time, God will make a way for you. This has worked for us over the years. We look forward to seeing everyone at the event. Tickets go on sale soon so please ensure you get yours. Thank you and God bless.
'Wale Odunsi
Freelance journalist/writer/publicist