Nigeria Halts Pilgrimage To Mecca Over Deportation Of Women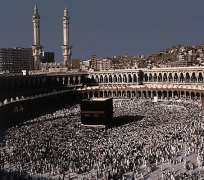 SAN FRANCISCO, September 28, (THEWILL) – The airlifting of Nigerian pilgrims to Saudi Arabia for the annual observance of hajj has been put on hold, according to Uba Mana, spokesman of National Hajj Commission.
The cessation follows a brewing diplomatic row between Nigeria and the southwestern Asian country, which has detained and repatriated several hundred Nigerian women for attempting to enter the holy land without their male companions.
"The airlift operations have been temporary stopped … It does not make sense to airlift people to be detained on landing. We will resume when all outstanding issues are resolved," Mana said.
Meanwhile, spokesman of the Saudi Arabian Hajj Ministry, Hatim Kadi has debunked reports that Nigerians were deported despite meeting all entry conditions into the holy land.
"The Nigerian pilgrims came with their visas stating that they have to have a male guardian accompanying them, either a brother, a husband, or another relative," Hadi said.
"Some came with their guardians and were allowed to enter. Those who came without their guardians were not. They violated the regulations which were clearly printed on their passports."
It will be interesting to watch how the two countries resolve the looming row, as members of the first batch of the female deportees who spoke to the media after their arrival at the Mallam Aminu Kano Airport on Thursday complained of been treated "inhumanely," without having access to food or water.
One of them, Hajia Amina Musa had said, "In our case, we were not even given water to drink. There was no food for us, as we remained glued to our seats in our aircraft. We even gathered that some had stayed for three to four days without eating or drinking water or even taken their baths while almost all of them sleep on a bare floor."