Breaking News: CJN Kutigi tosses out Andy Ubah's Appeal as Peter Obi's troubles mount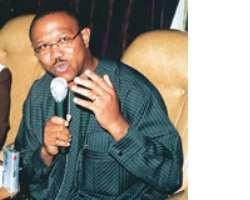 *CJN Kutigi Heads Supreme Court Justices to dismiss Andy Ubah's appeal
*N250 Million Scam: Obi offers the 6th version of his explanation - raising yet more questions
*EFCC assigns petition on Peter Obi for investigation
*PPA rescindes their invitation issued to Governor Peter Obi
_____________________
Barrister Onyechi Ikpeazu SAN led the Gov. Obi team while Barrister Emeka Etiaba, APGA governorship aspirant, this Thursday morning 11th June 2009, led the defense for the 6th respondent, Mr. Arthur Obi Nwandu in winning the Supreme Court case against Chief Andy Ubah and with that, the coast is now clear for the governorship election in Anambra State in 2010. More details to follow.
"There must be a limit to greed for the society we abuse today will take revenge on our children tomorrow."
– Gov. Peter Obi
"Peter Obi's greed knows no boundaries as the man is so selfish that he will never swear with his own life, rather preferring to swear on innocent children's lives. If not asking God to punish his own children for his own misdeeds today, it is asking the same God to revenge on other people's children tomorrow. What is wrong with asking the same God to punish him if he steals one Naira of public money instead of asking Him to punish his children?", stated a close cabinet level confident of Governor Peter Obi to Ukpakareports.com while espousing on the unfolding saga.
She countinued that "It is difficult to believe that things could go so wrong for a man vastly experienced in the art of money laundry, followed up with an abysmal attempt to cover up a scandal fast turning into some type of self laceration. Anambra seems to be a land of crude political behaviour but that notwithstanding, what has been happening in Anambra today cannot be excused, even as crude politics. It is sheer savagery".
As she lamented angrily to Ukpakareports.com, the highly respected member of Governor Peter Obi's exco noted that it has become a disgrace that a most highly placed public officer like the Governor, could rationalise his money laundering activities. In her words, "Peter Obi can only pretend to himself that he is not even aware that he is driving his state to the precipice by his inept and greedy governance style which has become ulcerous and gangrenous. The danger signs are very clear, except to those who the gods have chosen to make deaf, for those whom the gods want to destroy, they first make mad".
Informed spectators in and around Anambra State from information gathered have now begun to wonder how Governor Peter Obi can continue engaging in the monthly act of carting away Anambra's security votes - in return for the six different concocted and/or frabicated explanations to cover what happened. Reports now indicate that in Governor Peter Obi's attempt to cover his tracks, has infiltrated the state House of Assembly, by offering the members of Anambra State House of Assembly N50 million under the guise of 'Democracy Day' gift. The N50million withdrawal was made last Friday afternoon from Fidelity bank located opposite TRACAS office in Awka, Anambra State.
This is as the Economic and Financial Crimies Commission [EFCC] informed Ukpakareports.com yesterday that it has assigned investigators to the petition received on Peter Obi's money laundering activities in Anambra State. And this comes on the heels of warnings from players within the inner circles of Gov. Peter Obi's cabal. Some of the more vocal citizenry who spoke on this brewing issue swore that "As lives are being lost daily in Anambra, law and order have now totally broken down while Obi seems to be having the time of his life stockpiling our security vote into Next International account every month. The blood of the innocently slaughtered in the state due to Obi's greed in stealing this security vote at the end of every month, will never let him get away with his financial crimes against Anambra State".
This is as Ukpakareports.com has reported previously of the Governor's consistent inability to pay Anambra civil servants when due, in the same manner he never fails to cart away Anambra's security vote on the last day of every month.
It is recalled that when ukpakareports.com first broke the news that Obi was stealing N350 million in security vote every month, Obi's media aide Mr. Valentine Obienyem arrogantly dismissed our report in a terse statement where he said Obi's security vote was N250 million and not N350 million. As it turned out, Mr. Obienyem was half right. The N250 million ceased at Next Int. Apapa was a component of the N350 million we always reported.
On the other side of the coin, Governor Peter Obi and the trouble with his deputy, as gathered, as to do with the peroid of the infamous impeachment when she stood in for him. During the said period, Obi lost the revenue he normally collects via security vote, interest on Anambra funds and his cut of local government funds for those three months from 3rd November 2006 to 7th February 2007. This is according to sources.
As sources told our investigators, "Obi will never forgive the fact that Her Excellency being there meant that he could not forge the relevant documents with which to siphon the monies. This is Her Excellency's crime for which he will never forgive her and this accounts for why Obi blackmailed her beyond any reasonable measure. Obi now employs over 20 expatriates working for him at Next Int. since 2007 as their business investment in Awka is doing so well and Obi does not want to have Nigerians around as they will know 'where the bodies are buried'".
According to one of the sources who also happens to be an insider, "Governor Obi does not know when and where to draw a line between government funds and his private funds. He sees government funds as his personal money and on top of embezzling funds outright, is involved in round tripping of state funds, using it for importation of goods for Next Int., returning same amount once whole-sellers pay up upon collecting the goods from Next International Limited. He never uses Anambra Liaison Office in Victoria Island to transact government business in Lagos, preferring using Next Int. office in Apapa for that".
The insider source continued that " since he was sworn in as the Executive Governor of Anambra state, Obi has gone to Abuja virtually once every week but has never set his feet into Anambra Liaison Office in Garki, Abuja. He does not know what the place looks like, instead preferring transacting Anambra state business in Abuja privately. You should challenge Gov Obi to prove that wrong and that he has been to see Anambra government staff in Abuja even once, since March 2006".
Ukpakareports.com took an interest in Anambra funds when Obi alleged that N40 billion was missing after his impeachment. Of which under questioning while appearing on Delta TV two months ago revealed that not one kobo went missing when he was impeached and that he never told anyone that one Naira was missing.
To the issue of the missing N40billion, the source revealed that "the episode when Obi returned from impeachment alerted us to begin intensive monitoring of Anambra financial affairs for we noted that while Ngige said he left N12 billion in Anambra state coffers, Obi claimed that Ngige lied and that only N6 billion was left by him as at 17th March 2006. Now, we then took the worst case scenario of N12 billion as Ngige said and added six months of Anambra allocation from Abuja of N1.5 billion before Obi was impeached and arrived at N9 billion".
Adding the information from our sources to the Governor Obi's pronouncement, ukpakareports.com can deduce the following - Anambra state's Internally Generated Revenue [IGR] which came to N250 million - and over the six months Obi served as Governor before he was impeached, the state got a total of N1.5 billion in IGR, added to the allocation from Abuja over six months at N9 billion and the balance left by Dr. Chris Ngige at N12 billion, Anambra would have had a maximum of N22.5 billion 'SAVED' by Obi and not N40 billion, before Obi's impeachment.
From that moment in February 2007, ukpakareports.com spread its investigative tentacles, discovering the severe rape of Anambra State treasury by Obi and his younger brother Ndibe. We have been shouting our voice hoarse ever since with not many people believing that a living 'Saint' like 'Governor' Peter Obi is a perverted embezzler of State funds.
The new Anambra State Commissioner for Information, Chief Maja Umeh has found difficulty, according to sources, in cleaning up Peter Obi's mess.
Hon. Maja Umeh had claimed that Obi was not in Lagos on the 31st of May 2009 to secure the release of his aides. A claim that collapsed when the Commissioner was confronted by ukpakareports.com with a list of other passengers who traveled with Gov. Obi that Sunday to Lagos. Mr. Valentine Obienyem had been booked to fly to Abuja with the Governor on the evening of Sunday the 31st of May 2009 with Arik Air scheduled to leave Enugu airport at 3.30pm but both of Obi and Obienyem despite having confirmed tickets for that Arik flight to Abuja, could not make it as a result of their presence in Lagos that afternoon.
The said owner of the N250,000,000 Mr. Ejike Onwusogbulu also made an unscheduled flight that Sunday afternoon from Enugu airport with Gov. Peter Obi after the money had been intercepted in the premises of Next International in Apapa while Mr. Onwusogbulu was still in Awka and by then, knew nothing about the transaction.
Dana flight was delayed for over 40 minutes while Mr. Obi and his team were standing at the tarmac sweating, as a result of the Governor not being booked to fly on that flight originally, the operators of Dana air had a problem allocating seats to Obi and his team namely; Head of Governor's Convoy, PC Anthony Manya, Mr. Ejike Onwusogbulu 'the now infamous contractor', Mr. Ifesi Solomon, the Governor's Chief Security Officer a Yoruba officer who was not dressed for the journey and was only told he was going to Lagos when he got to Enugu.
The Governor's friend Mr. Ifeanyi Ubah CEO Capital Oil and Gas Ltd., a billionaire philanthropist who could not get a seat on that Dana plane did beg Mr. Peter Obi to let him [Ubah] use his ticket since he was traveling alone without his aides while no seats were available for the Governor's aides whom the Governor could not travel without. Obi refused Mr. Ubah's request and eventually, the pilot released two extra seats to Mr. Obi and his team by getting air hostesses to seat in the cockpit with him.
Mr. Peter Obi was allocated seat number 2a while Barrister Obika from Abia State sat in seat number 1a. Gov. Obi also traveled on that flight with his good friend Barrister Afam Ofomata who helped him reclaim his cash filled suitcases used in sorting out the police later that day, upon their arrival in Lagos. On that flight was Mr. I.G. Odunukwe from Oraukwu and another business man Mr. Emma Nweke from Awka. Mr. Nweke, who sat in the front row in business class swapped seats with Governor Obi so that the Governor could have a front row seat while Emma Nweke now sat in 2a that was allocated to Obi.
Obi in his sixth different version of what happened now admits that he traveled to Lagos that Sunday the 31st of May 2009 but with only staff. But information available to Ukpakareports.com indicate "It is a lie". Because Obi and his rescue team where not meant to be on that Dana flight originally, the rest traveled on tickets previously procured by other passengers.
Ukpakareports.com has also taken the time to narrate Peter Obi's unscheduled movement to Lagos and actiivities to rescue his aides and his/our N250,000,000 cash. Obi adequately sorted out the Lagos State Police Commissioner, Mr. Akpoyibo, I.G of Police Mr. Okiro whom was sorted in Abuja on Monday having told the previous day he will do just that. After consulting Barrister Patty Ikwueto SAN in company of Chief Victor Umeh in Abuja that Monday, Obi later went back to Lagos to sort out the Nigerian Guild of Editors who are now part of the conspiracy to cover up the scandal in the media, before eventually returning to Awka to declare that he was never in Lagos on that trip.
In their fifth explanation a few days ago, the new Commissioner for Information Chief Maja Umeh, as published in the Guardian newspaper of Saturday 6th June 2009 and as screened on AIT on Monday 8th June 2009; 'The Anambra State government distanced itself from the intercepted N250 million found in one of the vehicles on the governor's convoy in Lagos by the Police on Sunday. Commissioner for Information and Culture, Maja Umeh, noted that Governor Peter Obi was attending to official businesses in Abuja on Monday and Tuesday when the news broke. Umeh stressed that Obi was not in Lagos. The commissioner surmised that the owner of the money hitchhiked the three-car convoy, which went to Lagos for routine maintenance servicing. Umeh argued that joining the convoy was strictly the man's personal decision, which he could have worked out in private with the convoy's drivers. The state government has no hands in it."
Information available to Ukpakareports.com indicate that the said 'contractor', Mr. Ejike Onwusogbulu was not in the car that took the money to Lagos therefore did not "hitch hike the three-car Governor's convoy".
A government house source who wants to remain anonymous complained that the Governor's cars are always 'serviced' monthly either in Lagos, Abuja or Port Harcourt, only at month-ends, depending on where Ndibe Obi is available to receive the security vote from Awka. This time around, the cars being 'serviced' were five in number. The driver that led the operation is Peter's own driver, Zion. Previously Peter's then personal driver Thompson used to ferry the loot until he took $120,000 in cash on one money laundry trip and instead of Peter sacking him, he dropped Thompson to the pool as sacking Thompson would have led to him squealing on his boss. This incident was reported by ukpakareports.com on this site twelve months ago.
Obi previously always said that it is on record that he is the only Governor in Nigeria that has a short convoy. Of which the source refutes adding that "If this is true, how many cars were left in his convoy that Sunday after Zion and other four drivers pulled out five cars from Peter Obi's convoy for 'servicing' in Lagos? Gov. Obi, who is fooling who?"
Anambra State indigenes living in Abuja have now called on the Federal authorities to rescue the citizens from the grip of violent criminals who have now taken control of the state following Governor Obi's decision to spend nothing out of the state's security vote towards the security of lives and properties of Anambrarians, due to the fact that those security funds are being spent on Obi's various on going personal projects including the world class shopping mall located at plot 2, Kado Abuja, entirely being built for cash by the son of the owner of Dannic Hotels. [Peter Obi has not and will never dispute the fact that he owns that N7.8 billion shopping complex.]
Meanwhile, a newly posted Divisional Police Office to Awka, a native of Cross River State was slaughtered in the mayhem that followed the kidnapping of billionaire businessman, Chief Paul Okonkwo popularly known as Pokobros, in Awka, Anambra State on Friday 5th of June 2009. Pokobros, the owner of Tourist Garden Hotel in Awka was with one of his wives and his driver, both of whom were shot and injured by the gunmen. The incident occurred at the Nnamdi Azikiwe University (UNIZIK) junction Awka. Anambra State Police Public Relations officer, Mr. Emeka Chukwuemeka confirmed the incident. Within just one week, over thirty citizens of the state are confirmed to have lost their lives to violent crimes.
In a related development, Chief Austin Ndigwe, the National Vice Chairman South East of PPA says his party has of yesterday, 10th June 2009, rescinded their invitation issued to Governor Peter Obi to join PPA, announcing to the media that the Governor is now "tainted beyond redemption" by the N250 million money laundry case that has meant further payers money being deployed in covering up the scam through bribes to various organizations. According to Chief Ndigwe, the state of insecurity in Anambra presently marks Obi out as somebody that is incapable of fulfilling the role of the chief security officer of any state. Ndigwe further stated that Obi will no longer be accommodated in PPA as he has now become a political liability instead of an asset a sitting Governor is meant to be.
Ukpakareports.com, meanwhile has learnt that following Obi's anticipation of being treated as a political leper by other parties, has now decided to go for broke in Umeh's faction of APGA. Chiefs Victor Umeh and Mike Kwentoh rose from a meeting with Gov. Obi early Saturday morning at the governor's lodge in Awka, resolving to scan all APGA executives' signatures into a statement fully adopting Obi as the APGA candidate for the governorship election in 2010. The Sun newspaper of 10th June 2009 carried the first of such 'doctored' resolution , 'signed' by 21 local government chairmen of Umeh's APGA, adopting Mr. Obi without any primaries but six [6] of the chairmen who purportedly 'signed' the adoption called ukpakareports.com to say that their signatures were scanned into that document and did not sign any such resolution.
As Ukpakareports.com was told, "these men are very unhappy that while Gov. Peter Obi stashes away our security vote monthly, their monthly stipends are not paid to them". Umeh has since that meeting with Obi last Saturday, confirmed that there will be no primaries as 2007 governorship election.
Today's Punch newspaper confirmed our previous report of yesterday that the Commisioner of Police in Lagos state has paid back the N250 million 'mint' to Anambra state account and is in possesion of the teller.
On an interesting note, Ukpakareports.com has gathered information indicating that Governor Obi has over 15 brand new vehicles of all luxurious models parked at the premises of Next Int. in Apapa. It is believed that the vehicles belong to Anambra State government.
Stay tuned for "Peter Obi's commissioner booed in Abuja by Anambra elders"
Folks, just keep looking up ureports just as we now ask the Federal regulatory agencies to step in, intervene and rescue helpless Anambra indigenes from the evil grip of a psychopathic embezzler masquerading as an innocent political choir boy.
Publisher - 516 451 0632
|
Article source