YAR'ADUA AS A STATE GOVERNOR WAS ALSO CORRUPT?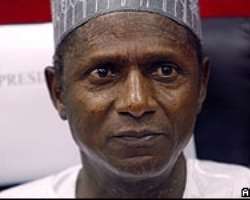 Dear Editor,
YAR'ADUA AS A STATE GOVERNOR WAS ALSO CORRUPT?
Call it dog-eat-dog. Definitely nothing hides forever. We all remember how during the classifications of the former Governors when still in office: some were classified high rogues, some small rogues and few 'clean men'. I remember vividly that President Yar'Adua who was then the Katsina State governor was among the 'clean men'.
One of the major actors (ex-FCT Minister el-Rufai) in that game plan of former President Obasanjo has now revealed that after all the listing was stage-managed. El-Rufai in his open confession published in the media last week gave graphic account of how the project was hatched. Vintage Obj, after using James Ibori, dumped him and tagged him corruption personified. But when he was sending James up and down with the Presidential jet to Katsina to fetch the unwilling Yar'Adua and asking him to pay Yar'Adua's N5million Presidential nomination fee, he did not tag him corrupt governor. Neither did he call James corrupt person when he (Obj) allegedly requested him (James) to partially bank-roll the Presidential campaign of Yar'Adua.
The other person my respect for dwindled after el-Rufai's spilling of beans is the former EFCC Chairman, Ribadu. With the single revelation that he accepted to expunge Yar'Adua's name from the corrupt governor's list on Obj gang's order has shown that most of the cases handled by him were carried out on select victimization. I await Ribadu to spill his own beans sincerely as possible. He alleging that James Ibori offered him US$15million to kill the corrupt charges against him, could be a tip of the iceberg.
Garba Shehu, Plot 345 Shehu Yar'Adua Way, Kardo District, Abuja
|
Article source