OMAR JAMAL & SOMALI PIRATES: AFRICAN GOVTS. SHOULD BE RESPONSIVE & RESPONSIBLE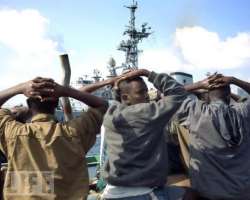 Alleged Somali Pirates Arrested in Gulf of Aden- Pix by AFP
Modernghana.com is one of the online information providers that took a decisive step in revealing and making more of public knowledge the ordeal of 10 Nigerians seized by the Somali Pirates in August 5 2008.
The publication was made available in an opinion which solicited the attention of all stakeholders who have the wherewithal to ascertaining the release of the captives: http://www.modernghana.com/news2/218550/1/who-will-liberate-nigerians-in-somali-captivity.html
Records of events have it that foreign ships hijacked by Somali pirates have rarely been held longer than four or five months in the worst cases, but the Yenegoa Ocean had remained in limbo for over 10months, with talks for its release seemingly at a standstill.
Concerning the Nigerian crew members, Dutch defence ministry spokesman Robin Middel said: "Because they were held for a long time, the state of their health has deteriorated."
At last count 14 ships are still being held by Somali pirates in the Gulf of Aden and Indian Ocean, together with more than 200 seamen, almost a fourth of them Filipinos.
According to Ecoterra International, an environmentalist non-governmental organisation monitoring illegal marine activities in the region, Somali pirates have carried out 126 attacks so far this year, including 44 successful sea-jackings. They had captured 49 ships in total 2008. Early April this year saw an unprecedented flurry of hijackings but less favourable weather conditions in recent weeks have led to a relative lull in pirate attacks.
The world's naval powers have deployed dozens of warships to the region over the past year, in a declared attempt to curb attacks by pirates threatening one of the world's busiest maritime trade routes. Observers say piracy can only be eradicated with measures to end the chaos inside Somalia, where close to two decades of war and lawlessness have made piracy one of the few viable businesses.
A month of intense fighting between pro-government forces and hardline insurgents bent on toppling internationally-backed President Sharif Sheikh Ahmed has left at least 250 people dead and 100,000 displaced.
However, some few weeks back, the release of the Nigerian captives by their abductors started making rounds again in the news both locally and internationally, but no one has expressed any concern to know who actually facilitated this over publicized release. Unfortunately some government officials have erroneously been laying claims to this release; however, Michael Peel an investigative journalist (who reports for Financial Times London, www.FT.com) did a good job to unveil the individual who sacrificed all, to make the release of these innocent Nigerians possible.
Omar Jamal, a Somali community organiser, says his temper finally snapped towards the end of an interminable series of negotiations in the longest running of the spate of ship hijackings in and around the Gulf of Aden.
After many weeks of phone calls aimed at cajoling a group of kidnappers into releasing the Nigerian tug Yenagoa Ocean and its 10 sailors, he issued a stark ultimatum. "I said: 'Give me the crew of the ship alive or give me the dead bodies,' " he recalls. "That seemed to work."
Mr Jamal, a resident in the US for nine years, is one of the accidental heroes of an against-the-odds triumph in the piracy crisis. Operating from the unlikely setting of Minnesota's state capital, St Paul, he worked for months with relatives of the crew to free a vessel hijacked for 10 months by bandits from one of the world's most lawless states.
The result was a striking cut-price deal to free a largely forgotten group of men whose abandonment contrasted with the diplomatic pressure, military intervention and millions of dollars in ransoms and negotiating fees expended to liberate other kidnapped ships.
The men's troubles began in August, when pirates intercepted the Yenagoa Ocean en route from Dubai to the southern Nigerian base of ESL Integrated Services, its new owner. The kidnappers demanded a $1m (£610,000 €718,000) ransom from the company.
ESL says it tried and failed to do a deal with the pirates. It paid them only $80,000 via an international wire transfer towards the end of last year, to cover the ship's fuel needs and the crew's subsistence.
Terence Dafiaghor, ESL's administration manager, said there was "no way" his small business could have afforded to pay $1m. The crew's relatives also sought help from the Nigerian government but felt they were getting nowhere.
It was a far cry from efforts taken to rescue crews in other pirate kidnappings, in which shipowners have hired specialist hostage negotiators and paid ransoms of $1m to $2m. Western forces have even been deployed in some cases, most strikingly in April's rescue by US navy commandoes of Captain Richard Phillips.
Denied these options, the Yenagoa Ocean crew's relatives set the Nigerian diaspora bush telegraphs humming instead. One of those it mobilised was Jeffrey Egbide, brother of the ship's captain, who is an estate agent in St Paul.
It was Mr Egbide who made the crucial contact with Mr Jamal, a business consultant and director of the Somali Justice Advocacy Center, a non-profit organisation in St Paul. Mr Jamal responded by contacting Minnesota-based elders from the same sub-clan as the pirates, only to find them reluctant to get involved for fear of being associated with the kidnapping and branded terrorists.
So Mr Jamal took on the responsibility of the kidnap negotiations himself. Mr Egbide says he ran up a bill of $6,072 in two months for phone calls that often lasted until the small hours, with the kidnappers taking breaks to pray.
Mr Jamal, who had no previous experience of hostage negotiations, appealed to the pirates to be merciful, suggesting the crew should be handed over to people he knew in the Somali port of Bosaso. Over time, as frustration set in, he became less submissive and less careful of the captors' feelings. He says: "As negotiations went on I started getting upset and hanging up the phone - and they rang right back."
Mr Egbide says he made a down-payment of $39,000 in April, part-financed by an $8,000 loan taken out against his Hyundai car.
Mr Egbide followed this up with a further payment of $4,000, which turned out to be decisive. The kidnappers - who, Mr Jamal says, were becoming ever more distracted by internal disputes over the money - allowed the ship to sail for Yemen and freedom.
Mr Jamal says the pirates have since called threatening to kill him if he does not send more cash. It is one of many reasons he is hoping his maiden taste of hostage negotiation also proves his swansong.
However, African leaders have not one bit shown sincerity of purpose and a deserving care or duty on matters that bother on the interest of their citizens. Our leaders/government have refused to acknowledge who actually facilitated the release of these captives, and not minding what the poor man is currently going through as a result of his philanthropic gesture in saving the lives of his fellow African brothers who were rescued from the shadow of death. This is a clarion call to our leaders to come to the aid of Jamal Omar now, Nigerian captives (10) have been released from the Somali captivity, it is now the turn of Jamal Omar, because all does not seem to be well with him presently.
By Emmanuel Ajibulu - Modernghana.com
[email protected]
+2348023660770