Jonathan Congratulates Bruce Onobrakpeya At 80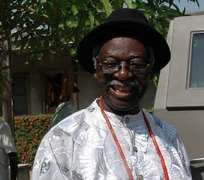 ABUJA, August 31, (THEWILL) - President Goodluck Ebele Jonathan on Friday congratulated world renowned printmaker, painter and sculptor, Dr. Bruce Onobrakpeya, on his 80th birthday.
In a release emailed to THEWILL by Dr. Reuben Abati, his special adviser on media and publicity, Jonathan described the highly celebrated Urhobo-born artist as a pacesetter and irresistible influence on generations of artists in Nigeria, and commended the creativity, presence of mind and realism that he has brought to bear on his cerebral works, which have been displayed at famous arts exhibition centres all over the world.
"Indeed, Bruce Onobrakpeya has been a worthy Ambassador portraying not only Nigerian culture and history in living colours but, also the entire black race," Jonathan said.
He also singled out for special praise, the Bruce Onobrakpeya Foundation, which has been used as a platform for encouraging the growth of arts and culture, and imparting skills in budding artists.
He enjoined younger Nigerian artists and students of Dr. Onobrakpeya to emulate the unparalleled devotion to work, discipline and patriotism that the great art teacher exhibits and typifies.
The president also wished Dr. Onobrakpeya "good health and many more years of remarkable service to his fatherland and humanity."