Nigeria, Benin Agree To Jointly Rehabilitate Badagry-Seme Road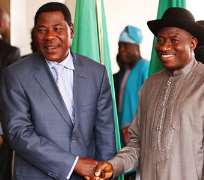 ABUJA, August 27, (THEWILL) – The Nigerian and Beninese governments on Monday reached a decision to join forces in rehabilitating the road linking Badagry on the outskirts of Lagos to Cotonou in the former French colony.
Speaking through an interpreter, president of Benin Republic, Boni Yayi, disclosed this to State House correspondents in Abuja after meeting with President Goodluck Jonathan at the Presidential Villa. He said there were already "high-level consultations between the Nigerian Customs and Beninese Customs" on the matter and many others.
"The meeting between the two Customs will collate all the problems, as the Badagry-Seme Road is being given top priority because that road is now in bad condition and needs rehabilitation."
Both presidents gave their consent to the take-off of the project, Yayi commending his Nigerian counterpart for his "unflinching support to the rehabilitation of the road because of the priority given to the hitch-free movement of persons, which is very essential to the promotion of international trade and commerce."
Yayo revealed that the two neighbours will be working through a joint commission, in order to boost prosperity in their respective countries and execute infrastructure and developmental projects, such as construction of good roads and railway system.
Both countries were united in calling for the convening of a meeting of the joint commission, which has been in existence since 1999, to take stock of issues affecting them.
"Just like France and Germany used to do, I proposed to President Jonathan, and he agreed, that the cabinet from Benin Republic and the cabinet of Nigeria should meet in Nigeria for a joint cabinet meeting to take stock of the priorities in the two countries," he added.
He commended President Jonathan on his efforts at surmounting the country's terrorism challenge, as well as the country's role in restoring peace in troubled regions of the continent, such as Mali and Guinea Bissau.
He equally had words of praise for Jonathan on his work with the Economic Community of West African States (ECOWAS), saying stability, security and peace are the only conditions by which both countries — and others — could develop and prosper.