FEMI ADEBAYO SET TO QUIT ACTING…DECLARES INTEREST IN POLITICS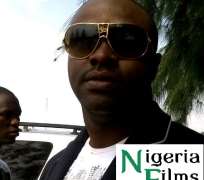 It's so obvious that the son of a veteran actor, Adebayo Salami popularlycalled Oga Bello, Olufemi Lateef Adebayo is withdrawing his interest in themake-believe world gradually. This was noticeable recently when he visited hishometown in Kwara and declared his intention into running for an elective postcome 2015.
The 39 year-old Femi Adebayo who is a trained lawyer is set to join theleague of actors in Politics like his senior colleagues such as RMD, RotimiMakinde, Okey Bakassi etc.
The father of three who has floated his campaign organization in Kwara Statewas a popular figure in Nigeria and beyond. His political ambition was said tohave been displayed a long time ago as a student of Kwara State Polytechnic andthe University of Ilorin respectively.
www.nollywoodgists.com learnt thathis highly connected dad, Oga Bello, is already assembling necessary machineriesthat will usher his seed in come 2015. Time, they say, will tell.