Jang's Chief Of Staff Resigns, To Replace Slain Dantong In Senate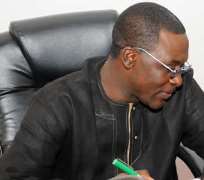 JOS, August 15, (THEWILL) – There are strong indications that the chief of staff to Governor Jonah Jang of Plateau State, Mr. Gyang Pwajok is being lined up to replace late Gyang Dantong in the Senate on the platform of the Peoples Demnocratic Party (PDP), following his resignation of his appointment with the state government.
Dantong was slain by attackers at Barkin Ladi village, where he had gone to participate in the burial of victims of one of the many killings that have bedevilled the northcentral state in recent times.
Director of Press to the government of Plateau State, Mr. James Mannok confirmed Pwajok's resignation, saying Governor Jang had accepted it.
"Pwajok has tendered his resignation to pursue other endeavours," he said in a statement. "While Pwajok thanked Governor Jang for the opportunities to serve in the government and the rewarding tutelage he has gained in the course of serving the administration, Jang, on his part, appreciated the contributions of his former chief of staff and wished him the best in the pursuit of his endeavours."