FG To Rehabilitate Obudu Dam With N1.165bn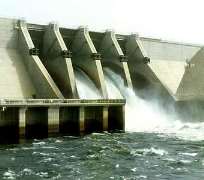 ABUJA, August 15, (THEWILL) – The Federal Government has approved the contract for the rehabilitation of Obudu Dam, estimated to cost N1.165 billion.
The ratification was done on Wednesday at a meeting of the Federal Executive Council (FEC) presided over by President Goodluck Jonathan.
Briefing State House correspondents after the FEC meeting, minister of water resources, Mrs. Stella Ochekpe, accompanied by her Information counterpart, Labaran Maku, lamented that the dam, which has a storage capacity of 1.25 million cubic meters, had been in an awful state, thereby affecting regional urban water supply in some communities in the area.
She said a memo was raised and submitted to the Council to enable the government of Cross River State embark on its regional urban water supply project, which will cover four communities: Obudu, Ogoja, Ikom, and Calabar.
The state government, which raised a foreign loan seven years ago to reticulate the regional water scheme, could not execute the project for rehabilitating the dam under the World Bank Assisted Second National Urban Sector Reform Project.
When completed, the dam will facilitate the irrigation of about 100 hectares of agricultural land, boost fisheries and promote tourism.
"The Cross River State government is carrying out a rehabilitation work in the water sector. It is reforming its water sector but a source of raw water is needed and the World Bank insists that the integrity of every dam to be used must be accessed," Ochekpe said.
"The Obudu Dam was accessed and it was discovered that it needed rehabilitation. That was why they gave the note for rehabilitation work to be carried out. This project will be financed 200 per cent by IDA credit."
She further said, "The Cross River State government has, since 2005, gotten an International Development Association (IDA) loan to develop the regional water scheme that will meet the needs of these communities in Cross River.
"But because of the state of Obudu Dam, it has been impossible for that project to commence. The contract was awarded at the cost of N1.165 billion."
She explained that the dam, when rehabilitated, would help to avert disasters that could result from dam failure, in addition to creating job for about 100 people. An estimated 5,000 people are also expected to be involved in jobs such as fisheries, farming, water supply and tourism that will be created, while adequate source of water supply would be provided for the people of Obudu, Ogoja, Ikom and Calabar.