Breaking News: Peter Obi's operatives caught with hundreds of Millions in Lagos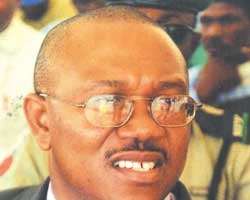 Breaking information reaching Ukpakareports.com just moments ago state that operatives of Governor Peter Obi has been arrested by Lagos State police.
Details of the arrest which are still sketchy indicate that the operatives who were despatched by Governor Peter Obi were arrested with hundreds of millions of Naira belonging to Governor Peter Obi.
The Lagos police through unconfirmed sources point to the large sums of money as concerning and indicative of possible financial crimes. The source within the Lagos police indicate that the suspicion is that Governor Peter Obi may have been using his operatives to launder the said money.
In addition, unconfirmed information indicate that the operatives who the Police have begun interrogating - have begun to spill the beans - on the real destination of the money. But Ukpakareports.com have yet to get the details of the confessions.
The arrest by the Lagos State police was made on the morning of June 1, 2009.
Stay tuned for more details...
Publisher - +1516 451 0632