MADAM SPEAKER'S DISSERVICE IN OYO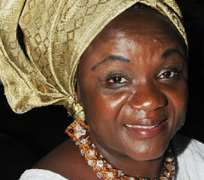 She went to London with wives of fellow lawmakers. She wanted them to learn how to take good care of their husbands. That was what she said - Monsurat Olajumoke Sunmonu. She is the speaker of the Oyo State House of Assembly. So she stayed in London with thirty-one women, occupied an hotel, attended some back of the street training programme, received certificate of participation, and went on shopping spree before she returned home. Some fifty million naira of public fund went with all of that. Oyo State residents in London had gathered in front of the hotel to show their displeasure though. And it was fitting. Their siblings back home send news of dilapidated infrastructures, of people and property in large part of the state capital, Ibadan, being washed away in flood, and of a chief executive that seems to pay more attention to how he looks like a chief in his flowing agbada all the time, than being where his attention and action are needed most by those that elected him to office.
Since the era of Chief Bola Ige in the Second Republic, Oyo State has never been fortunate to have administrations that inspire anyone. There is always something colourless about everyone that has occupied the Agodi Governor's office. Whatever the state had in the past has been lost to others. That is the result of successive administrations that lack vision, and no sense of where they want to take the state, and how to get there. The pattern is always about the last administration claiming it did better that the current one, even when the fourth item on its list of achievements in an election year was the repainting a Veterinary Centre in Mokola area of Ibadan which structure had been built since the 1970s, and inviting former President Olusegun Obasanjo to commission same as dividend of democracy. Ibadan was where every sportsman wanted to be in those days, and the state did make its mark in sports. Not anymore. Ibadan was where it all began for the then Western Region, and one would think gains should have been made with that head-start. Maybe it will tomorrow. Development is not taking place anywhere in the state. Instead, successive governors went to Oke Ogun (northern) zone of the state to claim that funds was being expended on Ibadan the state capital, while they told residents in Ibadan that funds was being expended on Oke Ogun. Everyone knows that northern section of the state has always been neglected, and indigenes from that end have perennially called for the creation of state of their own.
For years, flooding has been causing damage to lives and property in Ibadan, especially. This writer had watched Chief Bola Ige address indigenes in an emotionally laden voice in a TV broadcast when one of such flooding killed hundreds in 1980. It was the kind that the then president, Shehu Shagari, could not ignore. He came to Ibadan to assess the damage, and offered assistance from the federal government. Till date, major construction works that should free water channels and make the life of people safer have not been attended to. This year, both students of The Polytechnic, Ibadan, and the towns around their campus where many of them have accommodation have suffered incalculable loses. The story of woes in that area of Ibadan, Apete, has been an annual thing for decades, but nothing has changed. The area is some fifteen minutes drive from the Governor's office, and from Madam Speaker's office, yet a trip to London to learn how to make wives of lawmakers care for their husbands better was the number one priority. This is not to mention other embarrassing occurrences that are carefully covered.
It is a thing of worry that public officials in whom the electorates have high hopes take decisions that reek of insensitivity, lack of wisdom, especially when it comes to the utilization of public funds. These people take more than their dues from the treasury in the first place, yet the recklessness has come to the point where they rub it in people's faces even, and without a care. And such is least expected of a woman in public office. At a time the average citizen is ill at ease in financial terms and most struggle to make ends meet, Oyo State lawmakers agree to let their Speaker take their wives on a journey that is morally unjustifiable. It is even more shocking that a woman as Speaker conceived this idea, and in a situation where everyone claps whenever a woman gets into high public office. It is known that women are underrepresented in important positions, meaning that the few that do get there are expected to be orchbearers, pacesetters, highly disciplined and focused, rather than involving themselves in exercises that make one wonder if the ovation is worth it. There was that occasion a woman made it as the Madam Speaker of the House of Representatives. This writer celebrated it the same way Nigerian women did then. Imagine the disappointment when the news started filtering in that Madam Speaker had started travelling to America to hold Owambe parties. Then the eventual blow came that saw her been eased out over her handling of public fund, and there went the excitement about a woman for whom hope was high.
Oyo State Speaker has been quoted stating reasons for going to London to have a training course rather than in Nigeria. But one question is this, apart from the few sycophants around her who would have encouraged the trip for the benefits in it for them, can Madam Speaker go to an elderly woman in the village and make her understand that London is the right place to train wives in how to support their husbands in the business of lawmaking? Some things don't make sense. Whatever does not make sense to the electorates and the poorest of the poor is surely not worth doing. It is said that the chief executive in the state has been dissociated from the trip, citing separation of powers. In that case, can Madam Speaker look for things to do close home that would have more cause and effect benefits for the citizens of Oyo State, and thereby save womenfolk more embarrassments?
Written By Tunji Ajibade
[email protected]

Disclaimer:

"The views/contents expressed in this article are the sole responsibility of

thewillnigeria.com

and do not necessarily reflect those of The Nigerian Voice. The Nigerian Voice will not be responsible or liable for any inaccurate or incorrect statements contained in this article."
Articles by thewillnigeria.com