Sonnie Badu mourns and dedicates final U.S concert to president Atta Mills.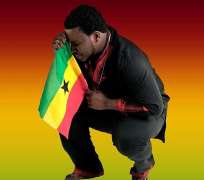 Renowned gospel icon Sonnie Badu has taken to twitter and other social media sites to express how immensely saddened he is over the untimely death of Ghana's president John Evans Atta Mills. On behalf of himself and the entire Sonnie Badu Ministries family, Sonnie extended his heart felt condolences to the late president's family and friends, as well as the entire nation of Ghana.
Speaking from America, Sonnie Badu said: ''It was with a very heavy heart that l received the news of the president's death. I feel I stand on behalf of the whole nation when I say I am grateful for the sacrifice he made to serve his people and that he should be remembered as an honourable statesman and a man who served his country with all he had within him. My prayers go out to his immediate family and the nation as a whole, that God may continue to strengthen us as we bare this huge loss that has left a void in the hearts of many".
The widely celebrated gospel sensation who is currently touring the US has taken it upon himself to dedicate his final US concert as a tribute to the late president. Sonnie Badu ministries is dedicated to connecting the heart of man to God through authentic praise and worship. With hit singles like "Covenant Keeping God", "Baba", "Adonai" and his recent Album "Colours of Africa", Sonnie Badu is recognized as one of Africa's Most Successful International Gospel musician and has received many awards in recognition for his achievements.
Each year Sonnie Badu Ministries organizes a musical charity event to bring revival to the nations. This year the event will be held in Atlanta, Georgia on the 11th of August 2012 in honour of the late president and the proceeds of this concert dubbed "Atlanta Alive with Sonnie Badu" will go towards "Thy Dwelling Place, which is a charity project targeted at providing shelters and clean water for orphans in Nsawam, Ghana
The SBM family invites the people of Atlanta and surrounding areas to come and witness humanity meet divinity through the act of pure undiluted worship. It will be a night of fresh fire, oil and rain as promised by Gods servant, Sonnie Badu.
''It is our prayer that God touches you on the night of August 11th 2012, as the Heavens kiss Atlanta".
To keep up with Sonnie Badu visit:
website: www.sonniebadu.com
twitter: @sonniebaduuk