OUR WIVES ARE RICHER THAN MOST OF US-Antar Laniyan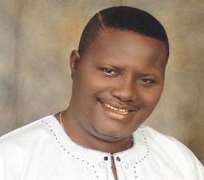 When it comes to acting, most especially in the Yoruba genre, one name that will ring a million bells is Antar Laniyan. He's an actor, a stage craft person and a good actor of that nature. But how many people will believe that despite all the glamour and razzmatazz displayed on screen, just a few of them can boast of N100k in his or her account. Antar Laniyan who is directing for Wale Adenuga Productions, has made a revelation that a lot of actors have their wives as their support.`` it's difficult to get people to help us.
They think we are rich. Our wives are richer than most of us. I don't want to name names, but I know a lot of actors whose wives are richer than they are. Most of actors drive their wives' cars. That is the truth. Even the area boys don't believe you don't have money. They think you are the one making the money, but they don't realize we are just actors who find happiness in acting``
Can't there be a way out of this situation or a kind of sanitation that will make the Yoruba industry well appreciated? We inquired and the veteran actor has this to say ``If you don't do it, somebody else will do it. If someone calls you to take N20, 000 and you don't come, somebody else will take N5, 00! Again, the people out there believe in what they see; so, if they don't see you often, you are gone! So, you have to keep going. Some of us don't like what is happening, but we can't help the situation and you have to pay bills. This issue that you have just talked about makes people cry, but they can't help it.
They know they are good actors, but they have to collect the ridiculous fees. This is because if they don't collect it, they will stop using them. Therefore, you have to keep helping so that by the time you want to do your own, those people too will now come and you pay them that same peanut.``