Team Nigeria Olympic Welcome Dinner in London - 08 July 2012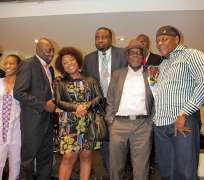 Nigerians last night came out enmasse to honour the Nigerian Olympians representing Nigeria in the Olympic games
The welcome dinner organised by CANUK for the Nigerian Olympians was attended by Nigerians and friends of Nigerians
from all walks of life including the Nollywood actors and actresses Notably,Olu Jacobs, Joke Silva, Segun Arinze, Bimbo Akintola,Justus Esiri,Kepy Ekpeyoung
Okechukwu Ukefe,kemi "lala" Akindoju,Tosan Ugbeye and Ifeoma fafunwa.
some of the Nollywood uk in attendance were Theodora Ibekwe the new face of Nollywood, Fatima Jabbe who was also the Mc of the occasion,
Tolu Yesufu,Adenike Osabutey,Tina Sonuga, Princess Ifem, just to mention a few.
Entrepreneurs such as Alexander Amosu,Sunny Ahonsi,Alistair Soyode CEO of BenTV,50 conuncillors and 4 mayors including ,cllr charity Fiberesima of Newham,Charles Adje of Haringey and the mayor of Enfield where in Attendance,The Deputy high commissioner Ambassador oluwatoyin Kayode lawal was not left out,and ofcourse the Chairman of canuk Bimbo Folayan,Charles Khiran the social secretary and also Mc of the night Shola Ogunseitan the publicity secretary ,june douglas,Ronke adeagbo, Chima Olugh ,Ronke Udofia, Ike Onuorah of strictly entertainment ,Funmi le moign and all the Executive members of Canuk
including Mr Dayo Olomu and wife were all in attendance.wale Ojo of meet the Adebanjos,carol Jiani,Wale great held the audience spell bound with their
great performaces,Mc Mark Nigerias foremost Comedian did not disappoint the audience.,all the Sodje brothers were in attendance.
Over 100 media houses including the award winning Sporah show on Bentv,OK!magazine,,Nollywood Tv,Nigerian web radio,Tiya magazine,Nigeria Magazine,Mary shittu media,The guardian Newspaper, Trumpet Magazine (Femi Okutubo), Nigerian watch, factory 78,The voice,Theodora pr, Media & Consultancy, just to mention a few.
It was an occasion that was memorable, Come up team Nigeria for the Olympics! and welcome to the Uk by Theodora pr,Media & Entertainment.