Kenneth Okonkwo Dazzles On AIT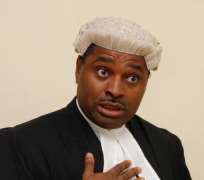 Actor-turns-lawyer dazzled all and sundry on AIT last Tuesday when he was being interviewed. The very entertaining interview segment had the Living in Bondage actor revealing his hidden oral.
He may not have dumped his first love- acting, but the handsome 'Andy' of the "Living In Bondage" fame, Kenneth Okonkwo who was once married to the daughter of a Lagos-based man of God, Reverend Obiora Ezekiel of Christian Pentecostal Mission, Ogechi, is surely spending his valued time in the courtroom than he is ready to return to the movie set again.
The handsome actor has pitched his tent in the legal profession. This explains why he featured in an interview session on AIT, Tuesday morning, where he took on legal issues that are affecting the Local Government administration in the country.
From the look of things, it's so obvious that Kenneth may be considering going into politics. He will become one of the likes , RMD, Okey Bakassi etc who have romanced politics and still romancing it.
While the programme lasted, Okonkwo gave a good account of himself as 'a learned gentleman.' He proved to the panelists that he was equal to the task.
HVP gathered that the Enugu State born actor is based in Abuja, where he is plying his trade.
Okonkwo who first read Business Administration in the University of Nigeria, Nsukka, before proceeding to read law, was called to the bar few years ago.
He was said to have completed his law programme with flying colours.
Click the link below to go to...
EXCLUSIVE: "Charly Boy Confessed Having A Gay Personality Called Linda"--Ed Jatto (Audio Included)
SCANDAL!!! Actor, Soji 'Omo Banke' Taiwo Abandons Wife, Children**Weds Canadian Mother Of 2 (Wedding Pics)
HOT NOLLYWOOD ACTRESSES (YORUBA) BIG BOYS ARE DYING TO DATE
Former Gov.'S Daughter, Kemi Omololu-Olunloyo Deported From Canada
SHOCKER!!! Rev. Chris Okotie's Love Child Expose? Woman Claims 3 Abortions For Him
Pastor Kris Respects Stephanie's Opinion
Jim Iyke Romances Cameroonian Actress
Celebrity Birthday!!! Veteran Actor, RMD Turns 51
It is my decision not to get married yet, especially when those who are in it are running out of it- Halima Abubakar, actress
What would you do if your fiancée says no s*x before marriage? Nollywood stars speak
Cossy Orjiakor And Pamela Anderson: Br*asts, Controversies, S*x And Scandals | + Loads Of Pictures | Viewer Discretion Advised