I AM NOT ENGAGED - AGBANI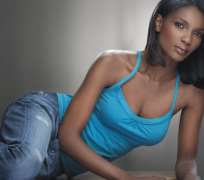 Contrary to rumours making the rounds, that Agbani Darego is currently engaged to Balyelsa politician, Timi Alaibe, the former Miss World has denied having anything to do with the politician.
The ex-Miss World cleared the air on her social network twitter during the week. She  noted that  she would have preferred that the rumour was verified before being published.
Agani Darego
'Would be nice to read verified reports from credible sources, @Theagbanidarego tweeted'.
A close aide of  Timi who pleaded anonymity also debunked the news, saying he conferred with Timi who affirmed that he had no plans to marry Agbani Darego.  .
Our source insisted that Timi's present concern is raising his kids so that they won't feel the absence of their mother.
'He has no such plan. His immediate concern for now is to raise his children and make them not to feel the absence of their mother who passed on three years ago', he said.
When news of the planned marriage broke according to close aides of the former  NNDC MD, he was  greatly distressed especially when it was alleged that a worried Agbani was said to have placed a call to him wanting to know if he was making plans to marry her without her consent.
The Darego and Alaibe families are very close and so were naturally shocked by the disturbing news.
Our reporter recalled that when Mrs Alaibe died three years, the hardworking former Labour Party gubernatorial candidate, said he won't get married less than five years after her departure.
Mrs Alaibe  died in January 2009 and since then there have been speculations over who will be his next bride and when he would remarry. Mr. Alaibe is currently in London where he is visiting his daughters who are schooling there.