Housing Starts Fall In May, Permits Up Sharply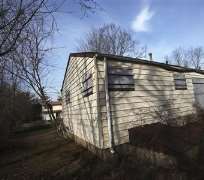 Housing starts fell in May from a 3-1/2 year high although permits to build new homes rose sharply, suggesting a nascent housing recovery remains on track.
The Commerce Department said on Tuesday that groundbreaking on new homes dropped 4.8 percent to a seasonally adjusted annual rate of 708,000 units.
The reading, which is prone to significant revisions, was below the median forecast in a Reuters poll of a 720,000-unit rate.
Revisions to data from prior months were more upbeat. April's starts were revised up to a 744,000-unit pace from a previously reported 717,000 unit rate. That was the highest reading since October 2008.
America's weak housing market has dragged on growth in the economy for the last six years, but signs of insipient recovery have led many economists to predict a reversal in that trend this year.
New permits for building homes jumped 7.9 percent to a 780,000-unit pace. That was the highest since September 2008 and well above analysts' forecasts.
"Several aspects of the report paints a somewhat brighter picture than the headline suggests," said Peter Newland, an economist at Barclays in New York.
Recent data has suggested the U.S. economy is losing steam, which has raised expectations the Federal Reserve could ease monetary policy as soon as Wednesday, when it concludes a two-day policy review. Hiring has slowed every month since February, while manufacturing output contracted last month.
Europe's debt crisis and planned belt-tightening by the U.S. government loom heavily over the economy. A downturn would imperil President Barack Obama's hopes of reelection in November.
U.S. stock index futures edged higher as investor hopes for central bank stimulus measures rose after tepid German economic data.
The U.S. housing market has shown some signs of life after collapsing six years ago although it remains hobbled by a glut of unsold homes.
Groundbreaking for single-family homes increased 3.2 percent in May. This segment accounts for most of the market. Starts for multi-family homes, which is one of the Commerce Department report's more volatile readings, fell 21.3 percent.
Sentiment among home builders touched a five-year high in June, a survey showed on Monday.
REUTERS