GH HOLLYWOOD ACTRESS NANCY AGYAPONG DELIVERS A BABY GIRL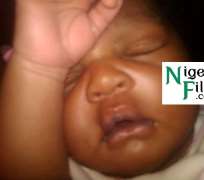 Report reaching us has it that GH Hollywood record setter, Nancy Agyapong delivered a bouncy baby girl at the St. Ann's Hospital on Tuesday, the 8th of May, 2012 at 11:30pm in Westerville, Ohio. Having lost two roles due to her gestation period, the news of the successful delivery brought smiles to Hollywood directors. From a reliable source, yours truly has discovered that Rico Chapa, a Hollywood production manager, on his visit to the hospital dropped a script saying, "Good, you look energetic." As he presented a new script to her, he remarked, "We can't wait to have you on this production." They both smiled.
Unlike Ghana where it is necessary to have a naming ceremony a week after birth, the actress' colleagues have promised to show up should the celebration be on July 28th, 2012 because hopefully they might be done with shooting. The baby's father's birthday falls on 27th July, hence he embraced the 28th without a second thought.
In an interview with HELLO! GH via Skype, the possible name of the baby was leaked as Nevaeh Asante. But surprisingly, when asked of the meaning, the parents pointed their fingers to the grandmother. "She came up with the name, we don't know where she got that from," they added. Speaking to Abena Pokuah (grandmother) wife of Nana Kwasi Kodua Akuoko II, chief of Kyiremfaso (a suburb of Mampong-Asante), she explained the name as a reverse spelling of heaven which simply means 'child from Heaven.' "Nevaeh is my concept therefore I believe my granddaughter bears the name alone. She's so unique and beautiful like the heavens. Nevaeh is Heaven," she hails.

Huiapong