Prof Timothy Acquah-Hayford — A Man Of Many Parts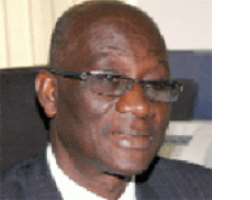 Prof Tim Acquah-Hayford, Lecturer at thye University of Education, Winneba
He was born and bred at Agona Nyakrom, a cocoa farming town in the Central Region, at a time when there were no tarred roads, electricity or water and going to school without shoes was nothing strange.
In his days, cocoa was the major farm produce in his village and cocoa farmers were rich. Yet, that young boy had a different dream. His dream was not to end up as a cocoa farmer as most of his peers wanted to. He wanted to become a lawyer.
'As a child, I admired lawyers. I was always excited when I saw them in their gowns walking majestically. My father used to be a litigant who dealt with the big Cape Coast lawyers in those times, such as Lawyer Benjamin, and as a child I always loved to watch them in their lawyers' gowns and wigs when they came to our house'.
Little wonder that that young village boy who saw his calling early and faced the challenges to live his dream did not only turn out to be a lawyer but a multi-talented professional.
Prof Timothy Kwaku Acquah-Hayford is this young boy. He is a lawyer, a marketing man who owns one of the biggest advertising agencies in the country, TBWA Markcom, and recently he joined academia as a lecturer at the University of Education, Winneba.
Being a successful lawyer, he served as a member of the National Executive of the Ghana Bar Association (GBA) as its Public Relations Officer.
When the Junior Graphic contacted him at his Adabraka TBWA Markcom office to share his success story with the youth he said, 'Throughout my life, anything that came my way I did it. Once there is a challenge, I face it.'

Giving an insight into his life, 66-year-old Prof Acquah-Hayford said he is the fifth child of Mr George Nyarko Hayford and Mrs Joana Andoh Hayford's 10 children.
Born into a typical Methodist family, he attended the Nyakrom Methodist School, which was highly rated at the time, for his primary and middle school education.
With the aid of lanterns, he studied seriously in the night and his hard work was rewarded with excellent academic performance. As a result, he was made to skip some classes and soon ended up in the same class with his elder brother.
Aside finding time for studies and other house chores, Young Kwaku, like any child born and raised in a rural setting, helped on the farm from time to time. He also walked quite a distance to River Akora to fetch water.
'That was never a funny thing for me so I always complained because of the distance involved and the load I had to carry back home,' he recalled. Tim's father was a storekeeper with the then UAC so the young boy used to go to the shop to assist with work there.
For Young Tim, Christmas at Agona Nyakrom was something he always looked forward to because it was the only time in the year when he got new clothes from his parents. There were also a lot of fun activities such as dance and cinema shows during the occasion.
Although Easter holidays were equally fun for him, Good Friday was a period of fasting in his family. 'Nobody cooked; we all went to church until the evening when we came home to eat,' he said.
Prof Acquah-Hayford gained admission to Achimota School in 1956 after passing an interview organised in Cape Coast for pupils from the Central and Western regions.
Interestingly, with the exception of one girl, all the students who attended that interview wore no shoes, he recalled. It was also at that interview that he met Prof Ivan Addae-Mensah, the former Vice-Chancellor of the University of Ghana, Legon, among others who became his mate later at Achimota school.
Achimota School, for him, was exciting and terrific. 'Our meals were regulated, compared to what pertained in the village. We did music, carpentry, pottery and art and I loved them all. I loved the school to the extent that I didn't like going on holidays because I would miss my friends,' he said.
He was a good sportsman in his youthful ages and engaged in sporting activities such as football, cricket, hockey, swimming and athletics. He was also a member of the cadet corps. No wonder he became the Aggrey house monitor.
After his GCE 'O' and 'A' levels at Achimota School, Prof Acquah-Hayford gained admission to the now Kwame Nkrumah University of Science and Technology to study Architecture. However, after a brief period of study there, he left for the School of Administration, at the University of Ghana, Legon.
After that, he entered the Faculty of Law, at the same university, to read Law and then continued at the Ghana School of Law, Accra. He was called to the Bar in 1982.
He worked with the Ghana Broadcasting Corporation as a news reader and later as its Director of Commercial Services. Prof Acquah-Hayford is also a former Chairman of the National Media Commission. he is the past president of the Advertisers Association of Ghana and Institute of Marketing, Ghana. Currently, he is the Lay Chairman of the Accra Diocese of the Methodist Church, Ghana.
Three years ago, he was appointed a professor at the University of Education, Winneba, where he teaches Marketing Communication.
He is married to Mrs Martha Acquah-Hayford and they have four children who are all adults.