ADEBAYO JONES as BEFFTA nominated BEST MALE DESIGNER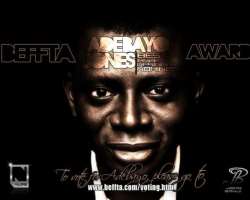 Generally we would like to say:
ADEBAYO JONES - BEFFTA NOMINEE- BEST MALE DESIGNER
Would like to thank all those who have already voted for him, it has been an amazing few weeks of hard work but the feedback and the support has been amazing
Adebayo Jones is incredibly touched that so many appreciate his work and contribution to the Fashion Industry
If you have not already registered your vote for him, please do so
ADEBAYO JONES is a designer of very high standing. Those that know ADEBAYO JONES will agree that there is no designer more deserving of this honour and recognition. He is both highly acclaimed and respected in the fashion industry. A true Ambassador of both Africa and the Fashion World
To register your vote for Adebayo Jones please visit http://www.beffta.com/voting.htm
The link above takes you direct to the page, where you will be asked your name and your email, this is purely to prevent spam/block voters, you will not be getting an influx of bogus emails, I personally have not received anything since placing my vote.
The category is - BEST MALE DESIGNER which is the 20th category on the list
ADEBAYO JONES - 2nd designer on the list
Voting closes 12th October 2009
10 AM UK time
If you have not already placed your vote, please do so
Thank you