Mark Beats The Drum For FG's Industrialisation Policy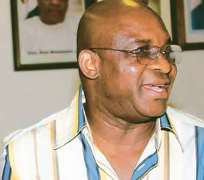 SAN FRANCISCO, June 03, (THEWILL) - President of the Senate, David Mark, has tasked Nigerians at home and in the Diaspora to support the federal government's policy of fully industrialising the nation's economy as a panacea for eradicating unemployment and general economic malaise.
He, therefore, specifically requested Nigerian professionals in the Diaspora to avail the nation of their expertise and experience, in realising the dream.
"This is because industrialisation is critical to economic development if Nigeria would achieve its ambition of becoming one of the most developed economies in the world by the year 2020," Mark said while addressing Nigerians in London, United Kingdom, at the second Ibibio (Akwa Ibom State) Summit at the weekend.
He pointed out that the nation has had a chequered history of industrialisation since Independence, with the industrial sector experiencing uncertain and difficult times, and incapacitation by several factors, such as energy crisis, excessive importation, overdependence on oil and lack of clear strategy for areas of the country's competitive and comparative advantages.
Represented by the chairman, Senate Committee on Rules and Business, Senator Ita Enang, he appreciated President Goodluck Jonathan's new approach towards industrialisation, which necessitated the constitution of a committee, led by Professor Mike Kwanashe, to, among other things, identify factors militating against the implementation of previous industrial policies, and formulate sector-specific policies based on areas where the country has comparative and competitive advantages among others.
The initiative, Senator Mark assured, would result in an industrial policy that will go a long way in fast-tracking Nigeria's march to industrialisation.
"It will ensure specific interventions in the areas of industrial and infrastructural development, innovation and technology; improve business environment with appropriate technologies; and help skills acquisition by our youths," he added.
Mark listed other notable industriaslisation efforts to include the Memorandum of Understanding (MOU) which the federal government signed with Global Biofuels Limited, an indigenous bio-fuel producer, for the construction of 15 integrated bio-fuel plants in the country.
"The project," he anticipates, "would create 120,000 direct and 750,000 indirect jobs across the value chain; and link 15 states to cheap biofuel-generated electricity at 30 megawatts per state."
He expressed optimism that the full industrialisation of the economy is achievable within the next two decades, provided Nigerian professionals, politician and business men at home and in the Diaspora commit to industrial development.