HOSNI MUBARAK: HAS CHANGE COME TO AFRICA?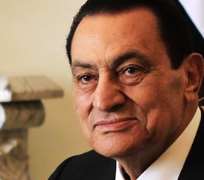 About three and half years ago, in far away United States of America when the current President, Senator Barrack Obama [A Black American] of the Democratic Party won the hotly contested Presidential Poll against a formidable opponent of the then ruling Republican Party Senator John MCcain [A White], he made a very deeply philosophical statement which aptly captured the historical symbolism of what his emergence as the first ever black American to be so elected as the President of the United States of America, the World's most powerful and most important country, means.
President Barrack Obama had clearly stated that his emergence meant that "...Change had come to the United States of America...."
Conversely, on a very beautiful Saturday morning of June 2nd 2012 in one of the World's most historic cities-Cairo, Egypt, history was made when one of the World's most notorious dictators and one of the first Arab Political Leaders to be dethroned last year in the wake of the Arab civilian-led mass revolution or Arab Spring, Retired Air Chief Marshal Muhammad Hosni El Sayed Mubarak was sentenced to life in prison by a wholly local Court for allegedly masterminding the dastardly criminal acts of mass killings of scores of pro-revolution civilian protesters last year shortly before his over three decades -old brutal dictatorship crumbled.
On that early Saturday morning characterized by a sensuous early sunshine in Abuja, as I remained consistently and intensely glued to my television set watching this unprecedented epochal event take place in Egypt, one of the cradles of Ancient civilizations, I was proud to identify myself as an African who is most probably living during a time that the once categorized dark continent may have started to witness some positive strides and who knows may be change has come to Africa, I had muttered to myself.
I will return to give detailed account of why this court process that took place in Cairo, Egypt will remain one of the most significant judicial events in the entire World and especially for Africans whether blacks or Arabs. This joyful moments came barely a 48 hours after the former Liberian President Charles Taylor became the first former Head of State in the World to be convicted and sentenced [to fifty years in prison] by the much criticized International Criminal Court [ICC] in The Hague, Netherlands.
What transpired in that Court room of Egypt would remain symbolic and historic even if the now convicted former Egyptian dictator wins on appeal or is released from Prison if one of his proteges and his last Prime minister wins the coming Presidnetial re-run election against the candidate of the Moslem Brotherhood.
The ousted Egyptian President known simply as Mr. Hosni Mubarak was born on May 4th 1928 and he became President of Egypt from 1981 to 2011 making him the longest serving President of modern day Egypt after the iconic founder and Premier leader of Egypt Muhammad Ali Pasha.
Mr. Mubarak has an illustrious military career where he rapidly rose to the prestigious rank of Air Chief Marshal, one of the few African military commanders to reach that peak of Air Force professional career. He was apointed the Vice President in 1975 and succeeded the slained Leader Anwar El Sadat, who was asasinated in an attempted military coup.
Writers of Wikipedia, the online Encyclopedia recorded that Hosni Mubarak narrowly escaped death during the ill-fated attack that cost the life of the then incumbent and charismatic leader in 1981. But Mubarak rapidly recovered from his injuries to assume the Presidency of Egypt on October 14th 1981.
A careful perusal of the profoundly rich military and political credentials of Mr. Hosni Mubarak will underscore the monumental historical significance of the event of his sentencing that took place in the court room of Egypt and indeed this singular judicial process in an entirely Egyptian Court system, is celebrated around the World as a major victory which signposts the possible end of glamorisation and glorification of political dictatorship in Africa and in much of the Arab nations and will invariably become a beacon of hope for the hundreds of martyrs killed by armed security operatives in Syria on the orders of the tyrant Mr. Bashar Al Assad. These great people of Syria massacred by President Assad's militants will rejoice in their graves on hearing the sentencing of Hosni Mubarak because it means that their death though amount to crimes against humanity but their heroism will not go in vain since there will surely be a day of reckoning for all these needless and relentless massacres.
Painfully, the dictator of Syria Mr. Bashar Al Assad still has the strong military backings of Russia and China that have repeatedly wielded the veto powers to halt any possible military intervention by the United Nations Security Council to save the civilians from genocide similar to the viciousness and brutality that took place about a dozen years ago in Rwanda during the genocidal killings that took place among the Hutus and Tutsis.

What to me as well as to a sizeable percentage of analysts started like legal gimmicks or comedy in that Egyptian Court room soon gave way to the realisation that the judicial panel truly meant business when the presiding Judge Ahmed Rafaat handed down some of the most severest sentences to a former Head of State and his powerful cabinet members in Africa and the entire Arab World which implied that ousted President Mubarak and his Interior minister who had ordered the crackdown of the protesters- Mr.Aabib el-Adli would spend the rest of their lives in the maximum security Prisons in Egypt where they once wielded enormous political and military powers.
Ironically, the Chief Prosecutor in this case was said to have been appointed by Hosni Mubarak during his time as Head of State of Egypt just as this fact symbolize in truth that no one should be above the law. Mubarak who was immediatelly transported by military jet to the Tora Prison was said to have suffered health set back the moment he sighted the prison facility. The 84-year old former Egyptian President in the entire ten months of judicial trials had remained sick and was mostly in court on a hospital gurney suffering undetermined ailments.
Even as the Judge read out his verdict telling Mubarak that his involuntary resignation from the high office of the President of the country was the end of thirty years of brutal dictatorship, Mubarak remained emotionally unmoved and unperturbed. May be, the real import of the life sentence had not dawned on him but it soon dawned on his consciousness when he was flown to Prison to begin his sentence and his ailments took a dive for the worst.
He was lucky however to have escaped the death sentence which was what most Egyptians who lost family loved ones at the last Year's 18-day old protest would have wanted. He was acquitted of all the corruption charges even as his two sons were discharged and acquitted on all the counts although they are stll facing civil cases relating to alleged insider trading in the Stock Exchange. Their discharge from this trial triggered another rounds of protests by the Moslem brotherhood and other pro-democarcy campaigners who lost their loved ones in the last year's uprising.
According to international journalists who covered the court room drama of all times, the Presiding Judge had told Hosni Mubarak and other 9 accused persons including two of Mubarak's Sons, that the uprising that saw his exit from office last year ended 30-years of tyranny just as the Judge affirmed that it was reprehensible that these civilian protesters who were never armed were cruely massacred by armed security operatives and the former President failed to exercise his power as commander-in-chief to stop the mass killings. The Judge stated in his preamble to the reading of the verdict that those who protested last year before he left office were peaceful and were actually motivated to do so by patriotism and loyalty to their Fatherland because of the urgent and compelling need to end the vicious circle of poverty and opression that characterized the nearly thirty years of Hosni Mubarak's dictatorship.
Happily, the sentencing of Mubarak was the first time an Arab leader ousted by his people has been placed before a regular court. The United States- based Human Rights Watch had shortly before the court session on Saturday issued a statement saying that "Mubarak's trial has the potential to set a meaningful regional precedent for accountability for human rights abuses and for uholding internatonal fair trial standards".
Indeed, the event in Cairo, Egpyt may as well become the tonic for pro-democracy campaigners in such African Countries like Uganda, Sudan, Angola. Gabon, Togo, Equatorial Guinea and pro-transparency campaigners in countries like Nigeria to be assured that pretty soon all those political leaders responsible for crimes against humanity and other forms of economic atrocities such as massive looting of public fund would be brought before effective judicial trials to account for their misdeeds while in office.
But one thing that is certain is that the people of sub-saharan Africa must speak out, stand up always for what is right and bring the positive change that we very much desired in Africa. The docility of the civil populace in a place like Nigeria has made it inevitable that a nation that is so very much endowed with natural resources is at the same time the country with the largest concentration of poor people while an insignificant percentage of the political elite and their cronies in the corrupt business environment have cornered the entire commonwealth to themselves and their concubines. Nigerians must know that if we must achieve transparency and a peaceful community of civilized persons, then we must be prepared to wage relentless war against the oppressors because victory does not come cheap just as it has been abundantly demonstrated in Egypt, Libya and Tunisia that supreme sacrifices must be paid to achieve an egalitarian society.
Written By Emmanuel Onwubiko

Disclaimer:

"The views/contents expressed in this article are the sole responsibility of

thewillnigeria.com

and do not necessarily reflect those of The Nigerian Voice. The Nigerian Voice will not be responsible or liable for any inaccurate or incorrect statements contained in this article."
Articles by thewillnigeria.com