Mr. President, Stop the Domestication and the Abusive Privatization of Police Officers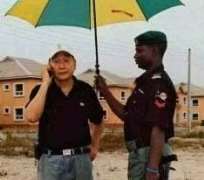 President Jonathan, it is time for an executive order to be issued in order to put an end to the ongoing deeply painful domestic and abusive relationship between law enforcement officers, the police in particular and very important persons in the country.
Many reasonable Nigerians take this issue extremely essential, and as one who specialize in police/prison science, forensic psychology and as one born to a father who contributed about forty years of police service to the Nigerian people; it is an eyesore for me to see on a daily basis, a sworn police officer in an enslaved posture in public.
In this respect, this is a personal issue for me and to many thinking Nigerians who see the basic duties and responsibilities of a police officer as that which include protecting the lives and properties of the people.
But as it is now, under the desire of some police officers and many highly placed persons/families in Nigeria a look at various public or open places will show the sight of an officer holding two or three mobile phone handsets, holding handbags, briefcases, umbrellas, coats, or a plastic bag of neatly packed food, and at the same time timidly holding a gun in the unfilled hand.
All these are going on with the very important person, "big man", or "madam" or even oyinbo (a white person) who may be on the officer's side spotting a look of superiority with completely empty hands.
Mr. President if this is not open insanity then the world would like to know what this type of image is, especially when both hands are supposed to be on a gun for the purpose of accuracy and quickness in a life and death situation?
If not for poor judgment the person being guarded ought to know that it is a lot harder to have an accurate grip of a gun with the officer's gun resting on his/her side, or hanging on the wall, or anywhere else because both hands are occupied with goods and gadgets.
It is not unusual to see this type of sight with the officer in a standing or passive position while the important person or boss is using the phones interchangeably, talking/laughing loudly, seriously engaged in telephone or having a face to face talk in an open setting.
As a psychologist, I have always wondered what could be going through the thoughts and feelings of the police officer–turned servant who in many cases appeared to hold a face marked with a hungry look, a very serious expression or an artificially smiling face.
Mr. President, in a highly challenged society like ours there is need for highly placed persons to have security but for God's sake the unscrupulous, authoritarian, unoriginal, dishonorable and imprudent behaviors of some in power or in high positions should stop now.
Mr. President, in the last one year the Chairman of the Police Service Commission, retired Deputy-General of Police, Mr. Parry Osayande, and just of recent the Acting Inspector-General of Police, Mr. Mohammed Abubakar, and a former Lagos State police commissioner, Mr. Abubakar Tsav have respectively called for a stop to the barbarous misuse of our law enforcement officers.
Mr. President, we live at a time when various areas of the Nigerian criminal justice system are being called upon locally and internationally to become more effective, efficient or valuable in their constitutional duties.
Just like the order you gave as in the case of the directive to have Executive positions being advertised and given out on merit, the same should be done in regards to the ethical and professional use of our law enforcement officers.
Sir, the brutal truth is that the dehumanization, oppression, bullying, and the cross sexualized image we see when a male uniform officer is holding an Italian shinning real leather handbag for "madam" due to misuse of power is disgusting and should stop now.
Mr. President, no matter what many of your aides say, including the acting Inspector-General of Police who is waiting to be confirmed by some of these social offenders to officers, it will be almost suicidal for a police man or woman to tell the very important person to carry his or her own handbag or briefcase.
Mr. President while of some of these power-that-be may defy your order as some have done in regards to your order that Ministers should have a certain number of aides, let this be different this time by applying the psychology of shame.
In an emerging democracy like Nigeria the duty of a police officer, whether in the service to an average or highly placed person is to extend his or her constitutional responsibilities which include ensuring the safety of the individual and not playing the role of a servant or a domestic as enslavement practices ended in Nigeria a very long time ago.
John Egbeazien Oshodi, Ph.D., is an Abuja based Forensic/Clinical Psychologist. [email protected] 08126909839
Disclaimer:

"The views/contents expressed in this article are the sole responsibility of

John Egbeazien Oshodi, Ph.D.

and do not necessarily reflect those of The Nigerian Voice. The Nigerian Voice will not be responsible or liable for any inaccurate or incorrect statements contained in this article."
Articles by John Egbeazien Oshodi, Ph.D.