2015 PRESIDENCY: JONATHAN SHOULD BEWARE OF SYCOPHANTS - OKPOZO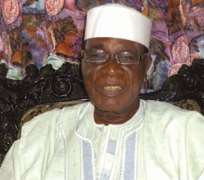 Senator Francis Spanner Okpozo is a second Republic senator and a former Deputy Speaker in the old Bendel State. The elder statesman from Isoko, Delta State has been calm for a while now, but he broke his silence to Saturday Vanguard in Benin City last Thursday on national issues. He warned President Jonathan not to allow sycophants derail his administration, saying that he should remain focused on the problems bedeviling the nation and not 2015 presidency.
Senator Okpozo who has also lived in Benin City since 1963, commented on the forthcoming July 14 governorship election in the state and declared that Governor Adams Oshiomhole's developmental projects will secure him the desired victory. He warned President Goodluck Jonathan not to get himself involved in any attempt to manipulate the election in favour of his PDP in order to avoid crisis in Edo state and Nigeria in general. Excerpts:
You have been very calm all these while, what is the problem?
When you see certain developments in a country, you have to examine them critically before you speak. I have the interest of this country at heart, so I have been very careful. Some people when they see things, they just talk without minding the implications of their comments.
They don't care whether they are creating an atmosphere of peace or destruction. For me, as one who have served this nation at local and national levels, I must be careful with whatever I say and what ever I say when you look at it you cannot fault it and I always stand by the truth. I have been watching what has been happening in the country and I feel bad some times.
You have lived in Edo state since 1963, what is your view on the forthcoming governorship election in the state?
Okpozo
I have lived in Benin City since 1963 when Midwest was created. I have been here as a public servant, I have been here as a politician. I know the terrain and being a former Deputy Speaker of old Bendel State under Prof.Alli's government, I had good interaction with every body in Bendel State that matters. The truth is bitter but it must be told. The previous governments in Bendel state did well to establish Midwest. Osadebey and others did very well. They were over thrown in 1966 by the regime of Aguiyi Ironsi. Ogbemudia and others later came as military governors. Alli was elected democratically and he meant well for Bendel state then. During Ogbemudia's time, he tried to build the University of Benin and put a lot of structures on ground.
But the major architect for building the educational structure came from Prof.Ali. He established the Bendel state university now Ambrose Ali University.
At that time, we established the Ekiadolor College of Education, in Esan and Akoko Edo and we established one College in Igueben. From there, we moved to the now Delta state. We established the College of Education at Agbor and another one in Warri. We built two polytechnics, one at Ozoro and another one at Ogwashi Ukwu. We were building the Abraka University before the military took over power. And when you see the quality of roads we built in Bendel state, very solid. The NPN was jealous of us due to the resources we are using to develop our areas.
In 1981, when we wanted to extend development to riverine areas, we brought a Company Edok Eter Mandilas from Greece because we know that Greece is a riverine area so that they can help us develop these areas. We carried a lot of burden then, making sure that we provided dividends of democracy to our people. I am recalling this because since 1999 it is sad that this PDP government brought suffering for the people of Edo and Delta states. The administration of PDP in Edo state was a chaos.
There was no road in Benin until Oshiomhole took over. Oshiomhole is not only constructing roads, he is building bridges, giving free education to the people, stabilizing the institutions that he met, building good markets, good schools and others. What can you say about that man? God sent him to come and remove shame from Edo state. And I am glad that His Royal Majesty, the Oba of Benin and all other traditional rulers are giving him support for his second term.
Oshiomhole has tried and anybody who is making noise that they will come and rig the election here will be wasting his time.  Every body is backing the man and if any thing goes wrong in the election, Nigerians will now see sense in what Buhari said because the chaos and end of Nigeria may start from Edo state. So we don't want chaos in Edo state, we want peace because a peaceful man is the Governor today. So, they must allow free and fair election here and if that happens, Oshiomhole will win with a large margin.
I have read PDP people boasting that they will use the President and Federal might to win. But the truth is that they don't even have that Federal might because Jonathan cannot fool himself. And I want to appeal to President Jonathan not to give support to such illegality because that will dent his image and his good works. He should not listen to those thieves making such noise.
They want to reap from where they did not sow and nobody should support such evil. I pray they don't push Jonathan into problem that will cause chaos in this country. But I know that Jonathan is a good son and will not listen to people who have deceived their people for too long and now want to come back to power through the back door. I don't think Edo people want to go back to darkness, so the PDP should forget it, purge themselves and give the man the desired support for their people and not for their own selfish interest.
As  leader from the South South, what it your take on the debate about 2015 presidency and President Goodluck Jonathan?
In politics, people say what ever they like, but in order to really make politics effective, people say what is true, what they can stand for. A lot of people have come out to say Jonathan must come back while some said he must go after his first tenure. Jonathan himself has not told Nigerians that he is contesting 2015 election.
It is some sycophants around him that are saying that. Jonathan has his own mind but I want to say that advisers have been the bane of defeat of democracy. Defeat of truth, honesty is as a result of sychophants. We have three years ahead so why don't they wait for Jonathan before they start blowing his trumpet? Nigerians should be very careful in order not to spark trouble because if this argument goes beyond this stage, it can create anarchy and nobody wants anarchy in this country.
Insecurity
Insecurity in Nigeria has always followed the political terrain since 1960. In 1960 because of interest ,the British created three regions: Western, Northern and Eastern Regions. And that created a lot of havoc for the country. The situation caused so much insecurity.
So, this problem of insecurity has been there. It is not a creation of President Jonathan. It has been so because of our differences in culture and political interest. So it is a usual habit. We had the Niger Delta militants before, those ones faded away, now we have the Boko Haram. The truth is that Nigeria is not supposed to be one country. People should be allowed to take their destiny in their hands according to their culture and religion.
Culturally we are not the same in Nigeria, language, religion, we are not the same. We are just patching Nigeria as one entity, otherwise Nigeria is not one as we claim. We must be allowed to discuss our relationship with other, whether want to be together or not. Democracy allows freedom of speech and association and that is what I expect our government to do, to allow us discuss amongst our selves and know the way forward. We have been patching this country like cloths and that is why peace has eluded us in this country.
For instance, the Hausas are saying that this is their turn for presidency, that Jonathan promised them. The Igbos said that they have not even tested the presidency because Azikiwe was just a ceremonial President because the government was in the North under Sir Abubakar Tafawa Balewa. Zik was just kept there to perform ceremonial functions. The Igbos have not tested it, so you have not satisfied the Igbos.
Until this matter is properly handled to the admiration of all Nigerians, there could be no peace in Nigeria. The Igbos said they have not tested it one day, and that is a statement of fact.Unless there is a proper understanding and the foundation of Nigeria as a nation is careful reviewed and all interest are put in place to understand why so and so should be in so so place, the insecurity in Nigeria will not be resolved because the Igbos will not allow it. So lets Jonathan not be excited about these politicians running around him, let him properly consult.
I don't believe that his executive is enough for him to consult to know the problems of this nation. Masses of Nigeria are in the rural areas, only few that are able to afford accommodation in Lagos and Abuja are in the main city. But what of those  who knows the history of Nigeria, who has been following all the governments, have their opinions been adequately sampled to really know the tension of majority of Nigerians. People who call themselves politicians should be very careful making utterances that are provocative. And for Jonathan, he should study the situation properly.
There is this fear that if the issue of Boko Haram is not properly handled, it may lead to disintegration of the country, do you share such fear Sir?
Some body said since Nigeria has been able to attain 50 years that it is likely that 2015 may be the end of Nigeria, do you think that the person who made that prophecy is dreaming? It is a not a dream, it is what has happened in the past. And Nigeria is heading to that. There is no fear about Nigeria being together is there is special understanding. But the issue of Boko Haram is politically and religious motivated.
Politically, there are people who are backing the boys, and these people want Nigeria to break. Majority of the people doing this thing are Muslims, no Christian has been reported to be involved. They are the Muslims, may be they are Nigerians that are looking for vested interest. Politically, yes the language Buhari used can either provoke the hearer or develop some kind of wisdom on how to guide himself.
People who are not in Jonathan's cabinet are people saying that he will come for 2015 when we still have three years left. So you cannot judge Jonathan based on the comments of these people. Until Jonathan makes a pronouncement I will not make further comment on the issue.
Buhari's comment
The fact is that when Buhari said blood will flow, he did not mean that there will be war. in Nigeria, no body pursues the truth. What Buhari means to my own understanding is that we will not keep quite and allow elections to be rigged, if you repeat it the country will be on fire. He only said don't repeat it. He is not saying that we are going to fight with arms. Nigeria is moving backwards there is no doubt and it is not Buhari's comment that made Nigeria go down.
Why do we have investigations at the Naitonal Assembly every day, when we have the Ziks, Sadauna of Sokoto,Osadebey,Okpara and Awolowo, were they probes like that? Probes were specific, targeted areas. But today Nigeria has turned one of the most corrupt countries in the world. Buhari is only telling you that anarchy is very near if we don't take time.
INEC is in trouble, Judges are taking bribe, policemen the same so what are we talking about. We have a serious problem in Nigeria and that is what Buhari is saying.  If the judiciary knows that the Executive is going wrong, why not correct the executive.
The Federal Government knows all these problems, even the cases the EFCC was handling today there are no more. When you look at the people are they really concerned with the constitution bestowed on them. So Buhari is only crying to the President to correct all these anomalies so that Nigeria can move forward. He is not after Jonathan, but he is after the agents that are controlling Jonathan. I don't think he means to cause trouble but if he means it, I will not support him, or Nigeria breaking up. But he is only sounding a note of warning. So to that extent Buhari's statement can be said to be misinterpreted.
Sovereign National Conference
Whether Sovereign or no Sovereign, Nigeria should be made to come together to talk about what is good for the nation. Hausas must come and tell us this is what they want. The Igbos and Yorubas, Isokos and others should come and say this is what we want. No body should say because the National Assembly is there we should not hold a conference. How many of the National Assembly members are experienced? You learn from experience. Allow Nigerians to say what they want then at the end you pass the recommendations to the National Assembly. It is very necessary that we talk.