Exopa Boss Nabbed For Cocaine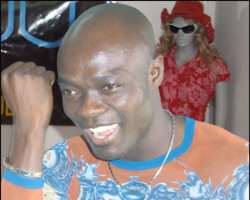 Sima Ibrahim - CEO of Exopa
The Chief Executive of the Exopa Modeling Agency, Sima Ibrahim, was arrested on Monday night at the Kotoka International Airport (KIA) for attempting to carry five kilogrammes of cocaine onto a plane.
He was nabbed by operatives of the Narcotics Control Board (NACOB) just before he boarded a Lufthansa Airline.
Security officials said based on suspicion during random checks on passengers, Sima Ibrahim, 39, was invited for a urine test by security operatives but he could not produce any urine.
The security operatives said Sima's luggage was ordered to be off-loaded and a check revealed that it contained four tubers of yam that had been sliced and re-fixed, making them look whole.
They said when the tubers were separated, cavities were found in each of them containing substances which proved to be cocaine following a field test.
Upon interrogation, Mr Sima said one Salifu at Nima gave them to him to be given to someone.
Sima's agency recently organised the Ghana Fashion Week modeling and fashion event which brought down Hollywood superstar, Boris Kodjoe.
The Public Relations Officer (PRO) of NACOB, Francis Opoku Amoah, confirmed the story yesterday and said the Exopa boss was arrested at 11:00pm on Monday September 7, 2009, at KIA on suspicions of possessing and attempting to export cocaine.
Sources however told DAILY GUIDE that the tubers of yams were already loaded onto the plane before Narcotics Control Board (NACOB) personnel got the hint, upon a tip-off.    
The modeling boss was subsequently arrested and is still being held in NACOB custody. Further details of his arrest have since not been made public by NACOB.
It was not clear where Sima was travelling to before his arrest, but DAILY GUIDE sources said he was going to Germany.
Media reports last week indicated that the Exopa CEO, himself a model, would be traveling to the United States to meet Boris Kodjoe who had expressed interest in coming back to Ghana after the Ghana Fashion Week, for Exopa's L-Fashion programme which is aimed at promoting plus-sized models.
His meeting with Boris, according to the report, was to finalize plans to get the Hollywood actor down to Ghana in December for the show.
The Exopa Ghana Fashion Weekend which was held in July was adjudged the biggest fashion event ever in Ghana and across the African continent.
The four-day event paraded a lot of fashion designers and models as well top celebrities.
Beside Hollywood superstar Boris Kodjoe and his wife who graced the event, there were others such as Black Stars and Chelsea midfielder Michael Essien, Togolese and Manchester City striker Adebayor, and one time ace Ghanaian footballer, Tony Baffoe among others. Nollywood actress Stella Damascus was also at the event as well a number of Ghanaian movie stars and musicians.
Sima's Exopa Modeling Agency is an internationally recognized organization with its main branch in Germany.
The company was established in Ghana barely four years ago and has provided jobs for young guys and ladies who want to pursue modeling for a living. Sima went on to build a modeling school called the Exopa Burg which trains models.
In another development, James Owusu, a 34-year-old trader, was also arrested on Sunday September 6, 2009 by NACOB operatives at KIA at about 10:20am.
He was nabbed on suspicions of injecting narcotic drugs while going through departure formalities to board an Ethiopian Airline to Addis Ababa en route to Dubai.
A field test which was conducted on his urine proved positive for heroin.
A further x-ray test on his abdomen at the 37 Military Hospital revealed foreign materials in his stomach.
Upon interrogation, he confessed to swallowing fifty pellets of thumb-sized narcotic drugs.
Owusu, according to the NACOB PRO, has since expelled all the fifty pellets and further investigations are ongoing into the case, adding that the suspect would be arraigned when investigations are completed.
By Rocklyn Antonio & Francis Addo