JONATHAN VOWS TO END INSURGENCY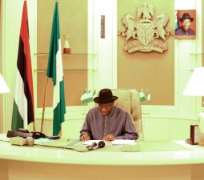 President Goodluck Jonathan said the Federal Government has resolved to crush insurgency in parts of the North.
In a live broadcast to the nation marking this year's Democracy Day yesterday, Jonathan was silent on the much touted dialogue with the Boko Haram saying that the government was ready to confront the insurgents.
'As President, it is my solemn duty to defend the Constitution of this country.  That includes the obligation to protect life and property.
'I wish to reassure every Nigerian that we will confront this threat against our collective peace and security, and bring the perpetrators to justice. We will confront the few misguided persons who falsely believe, that through violence, they can impose their agenda of hate and division on this nation of good people. We will never yield to the forces of darkness. Nigeria will never, ever, disintegrate', he said.
The President urged Nigerians to forge greater unity to surmount the various challenges facing the country.
'If we believe this to be a sacred obligation, it will not matter whether we are Christians or Muslims, or politicians, irrespective of political parties or divide. It really will not matter whether we are civil society agents, social activists or union leaders.  What matters is Nigeria. This nation exists because we are one,' he said.
He noted that within two years, it would be 100 years since the Northern and Southern protectorates were amalgamated and Nigeria was born. While highlighting the achievements of his administration in the last one year, Jonathan said in spite of myriads of challenges facing the nation, government has taking steps in improving socio-economic wellbeing of the nation.
He said, 'The country's credit rating is positive, in contrast with many nations being downgraded.  In 2011, our economy grew by 7.45%. As at mid-May 2012, our foreign exchange reserves had risen to $37.02 billion, the highest level in 21 months. We have stabilized and improved our fiscal regime. We brought the fiscal deficit down to 2. 85% of GDP from 2.9% in 2011. We reduced recurrent expenditures from 74% to 71% and reduced domestic borrowing from N852 billion in 2011 to N744 billion in 2012. We cut out over N100 billion of non-essential expenditure and increased our internally generated revenue from N200 billion to N467 billion.'
In the power sector, Jonathan said his administration has increased generation from 2800 megawatts in 2010 to a peak generation of 4000 megawatts by the end of 2011.
Jonathan said his administration is set to transform the oil and gas sector by re-drafting the Petroleum Industry Bill (PIB) to be sent to the National Assembly next month.
On oil exploration in the North, the President said 'the sum of N11 billion is provided in the 2012 Budget for Hydro-Carbon exploration in the Lake Chad Basin.'
To boost food production in the country, the government has directed consumption of local products at public events.