THREE FACES OF OLAITAN OYERINDE: A STUDENT ACTIVIST, LABOUR UNIONIST & PATRIOT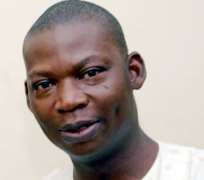 Citation at the Evening of Tributes in Memory of a Departed Comrade, Abuja, May 30, 2012
In his generation, not many stand out like him. He was honest, intelligent, humble, considerate, committed, loyal, dependable, and focused.
Born 7th December 1968, he attended Mount Camel Secondary School, Ilorin, Kwara State College of Technology (now Kwara State Polytechnic), Ilorin, and the University of Lagos where he studied Mass Communications. He had done courses and attended conferences in several countries, which equipped him well enough for the challenges of his passion: to live and work for humanity in the quest for a better society. He was groomed early enough by his journalist father to read, work hard, be humble, and concerned about others. He created humor out of serious situations that could have resulted in scuffles and yet proffered the best solutions to knotty issues.
He was the author of so many communiques after several meetings as a students' union, trade union and civil society activist. If you had him in attendance at any meeting, be sure to have the best communique reflecting exactly what was collectively agreed as the outcome of the interactions, even if he disagreed with any part of the discussions. His father worked as the Ilorin correspondent of The Sketch newspaper, now defunct. His father is a realist, professional, progressive and every bit of him was in his beloved son who didn't just start reading newspapers in secondary school but also sold newspapers without consideration for profit.
Olaitan Kabiru Aremu Oyerinde, until he was assassinated early Friday, 4th May 2012, was the Deputy General Secretary of the Nigeria Labour Congress but on leave of absence to work with the immediate past President of the NLC, now Governor of Edo State, Comrade Adams Oshiomhole as his Special Adviser (Special Duties) and Principal Private Secretary between November 2008 and 4th May 2012 when he was gruesomely assassinated by agents of retrogressive politics right before his young family at about 1.30am that Friday morning.
Before joining the Secretariat of the NLC, Olaitan did his youth service and eventually worked with the West African Economic Consultants (ECONSULTANTS) as a Research Officer in 1990 and later left to formally join the trade union movement as Assistant General Secretary of the Iron & Steel Senior Staff Association of Nigeria (ISSAN). He left ISSAN for the NLC in 2001.
While at the University of Lagos, Olaitan was a rallying point as the secretary of the radical student movement, the Patriotic Youth Movement of Nigeria (PYMN), the coordinating organ of all progressive movements of the Marxist extraction in all tertiary institutions at the time. It was during this period that the state unleashed severe attacks on the students' movement nationwide. Students' Unions, academic and non academic unions were ferociously attacked by the General Ibrahim Babangida military regime. But, the movement under the leadership of people like Olaitan Oyerinde, Gbenga Komolafe, Gbenga Olawepo, Sylvester Odion-Akhaine, Adewale Bashar, Bode Ojomu, Ogaga Ifowodo, Bamidele Opeyemi, Bamidele Aturu, Lukman Salihu, Bala Jubril Mohammed (of blessed memory), Comfort Idika (now Ogunye), Juliet Affiong-Southey, Chima Ubani (of blessed memory), Segun Jegede, Lanre Ehonwa, Chris Ndiribe and others, worked with older comrades to resist the attacks and defended the rights of every Nigerian to education.
The attacks by the military were preparatory to the economic warfare unleashed on all Nigerians through the Structural Adjustment Programme (SAP), a neo liberal killer economic policy forced on Nigerians by the Babangida regime. Indeed, the Babangida regime for whatever reason was one with the worst anti people policies in the history of Nigeria. His regime downgraded the national currency. He had a political programme that was designed to entrench the military perpetually in office. His attack on the academic community reduced, till this moment, the quality of education in Nigeria. Radical lecturers were violently thrown out of their quarters because, as the regime claimed, they were "teaching what they were not paid to teach". Dr. Festus Iyayi, as President of the Academic Staff Union of Universities (ASUU), Dr. Osagie Obayuwana of the Faculty of Law, University of Benin, Dr. Tunde Fatunde of the same university all had varying degrees of heartless state attacks. Festus was not only sacked, he was thrown out of his official quarters by agents of the regime.
These events brought out the unequalled qualities in Olaitan as an astute and energetic organizer, brilliant writer, and selfless leader, loyal, dependable and a skillful revolutionary machine.
Olaitan was part of several organisations. When the then Military Governor of Lagos State, Brigadier-General Raji Rasaki forcibly evicted poor residents from Maroko in favour of the rich in 1988, Olaitan was one of those who rose to the occasion and got the evacuees organised and fought for an alternative shelter. When landlords were becoming overbearing against the rights of tenants in Lagos, Olaitan was among those who formed the Nigerian Tenants Association to fight for and protect the rights of tenants. When the Babangida regime imposed SAP on us, Olaitan was on the protest line in 1989. When Nigerians had to be mobilized against the entrenchment of military dictatorship, Olaitan was always on the protest line under the auspices of the Campaign for Democracy (CD). He was indeed the Chairman of the Lagos State Branch of CD during the pro democracy protests era. CD worked with several organisations, including trade unions, to ensure the military never had a space in their obvious desire to continuously circumscribe our collective rights.
Indeed, Olaitan was not involved in anything unrelated to organizing for progressive human development. He was frank and brutal in expressing his opinions on issues passionate to him. Olaitan's commitment to work, any productive work -- at his formal workplace or organising for political change with informal organisations could never be doubted. He was time conscious and he knew the difference between play time and work.
As an internationalist, he believed in the unity of the oppressed people anywhere in the world. It was the same internationalist spirit that took Olaitan to Edo State. If ethnicity was a factor in our lives, as it has become today, Olaitan would have declined to work with Adams Oshiomhole in Edo. He handled the Governor's official correspondence and brought order to things. Faithful to his vocation as thinker/writer, he kept an impressible library of seminal books. He died fighting, as part of a team leading the rescue of a state abandoned in poverty, maladministration, underdevelopment, and total infrastructural collapse.
A lot has been said and written about his ideological fidelity, great capacity for work and prodigious energy to organise. Perhaps the only area yet understated was his terrific sense of humour. He was such a bundle of humour. He had this uncanny way of cracking rib-cracking jokes and yet kept a straight face while others would laugh to stupor. Not being Edo indigene (he hailed from Osun), people would normally call him 'Mr. Expatriate'. To that, he would joke that, 'But you people are not paying me expatriate wage unlike my contemporaries from overseas'. If you got angry with him, he would disarm you with jokes. Once, someone barged into his office and hollered at him for not picking his calls after several dials. To that, Olaitan retorted calmly: 'Why should I be in a hurry to pick your calls, am I your girlfriend?'
Few days before the assassination, a relation of Olaitan had what looked a premonition in form of a bad dream and promptly told Olaitan to be careful. But Olaitan was a fearless guy who would not take any precaution, in the conviction that his cause was too just for him to become a target.
Olaitan was kind. He was depersonalized and detribalized. Even with his Yoruba name and identity, most people who had known him for decades didn't know where he came from because it didn't matter anyway.
His brilliance, patriotism, organisational discipline, hard work and selfless commitment to our collective desire for human development are legacies we shall never forget. These legacies generated the massive condemnation and cries that followed his callous and heartless murder just before his next birthday on 7th of December, when he would have been 44 years. Whoever is connected, even in the remotest way, to the assassination of Olaitan Oyerinde is today stinking with his blood and will forever be followed by angry flies while Olaitan remain golden in our hearts and in history. We must reinvigorate his memory by refusing to agonise but deepen our organising work until victory is achieved.
Olaitan was a colleague of inestimable value, an unforgettable brother, a dependable friend, and a highly committed comrade whose patriotic zeal will continue to fire our collective commitment until victory.
Though we miss you, but your spirit and legacies live on.
Written By Denja Yakub, Louis Odion and Sylvester Akhaine
Disclaimer:

"The views/contents expressed in this article are the sole responsibility of

thewillnigeria.com

and do not necessarily reflect those of The Nigerian Voice. The Nigerian Voice will not be responsible or liable for any inaccurate or incorrect statements contained in this article."
Articles by thewillnigeria.com