HOW MY FRIEND WAS KILLED IN EUROPE - Emmnuel Obinali Chukwujekwu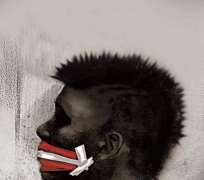 A new book has been released by a Nigerian immigrant now living in Spain. The title of the book is "The Last Journey of Marcus Omofuma"-An account of Prison Experience. And in that book, he exposes Europe unfriendly immigration policies towards Africans. He is sad with the development as in one hand; Europeans freely come to Africa for everything while they deliberately make life impossible for few Africans that made it across to Europe. He shares the experience of a dear friend and brother whom he had met in Austria and how he was unlawfully killed during a deportation exercise and till today, his case is swept under the carpet simple because he was an African immigrant who has no voice in Europe.
Again, Mr Chukwujekwu is of the opinion that Africa has what it takes to be a great continent so he wants to discourage others from coming to Europe. In his words, Europe is not heaven; it has its own problems, let us use the resources in Africa to develop Africa. He spoke with our Editor-in-Chief, Elvis Iruh on his book and other subjects. Excerpts:
Q: A short introduction of yourself to our readers?
Emmanuel: I'm Emmnuel Obinali Chukwujekwu, a Nigerian of Igbo origin, precisely from Ihiala in Anambra state. I immigrated to Europe (Austria) in 1998, but shortly after, in May 1999, I was arrested by the Austria's police with many other Black Africans, and labelled a boss of non-existing criminal organization, as a result of our
participating in series of demonstrations organized by some Human Rights group, when Marcus Omofuma died at the hands of the Austria's police while being deported back to Nigeria, on May 1st 1999. Many of us would later be intimidated and sentenced to many years in prison. I in particular was sentenced to initial nine years imprisonment, but was later discharged and acquitted when the Austrian Supreme court ordered for a retrial of my case, as there was no substantial evidence to support the police allegations. Yet, I was made to spend almost five years in Vienna's central prison that was where I conceived the idea and inspiration to write this book. The case is still on in the European Human Rights court in Strasbourg France.
Q: You are now a writer but what have you done before going into writing?
Emmanuel: While in Nigeria, I was a business man dealing in electronic parts,
after my secondary school at St. Jude's secondary school, Ihiala.
Q: What was the experience like for you when you moved abroad?
Emmanuel: I came to Europe in 1998. Well, with my experiences and that of other African brothers and sisters I have come across, I could only say that Europe is never a bed of roses as we used to believe in Africa. It's survival of the fittest over here.
Africans are subjected to inhuman atrocities and racial abuses on daily basis by our European host countries.
Q: You have written this book based on a true life story; how did you come to know this person in the book?
Emmanuel: Of course, I met Marcus Omofuma when I came to Austria in 1998. We
were like blood brothers, irrespective of the fact that he came from Edo state. We ate together and discussed African politics with other African brothers and sisters. He was a brilliant guy, one of the best you could be together with all your life without having problem. He was a good guy.
Q: Having lived in Austria and now Spain, would you say that the
immigration problem is the same in all European countries?
Emmanuel: As I wrote in my book, I believe that the Europeans know what they
are doing trying to protect us from migrating here, as they are afraid of all the atrocities they committed in Africa. They have propelled the same asylum policies, doing everything possible to blackmail and intimidate Africans, forgetting that they came first. Remember that they came with everything in their disposals-- machetes,
guns etc. Hence they came without our concept, it's high time they accept the fact that they cannot live alone. They need Africa as Africa need them, since the concept of globalization is still in their minds.
Q: What do you intend to achieve with this book?
Emmanuel: My primary intention is to reach as many African brothers and sisters who are still in Africa and are trying to immigrate to Europe to know that Europe is no more a bed of roses as we always believe in Africa. They should either reconsider their stances or be very prepared to face the "game" as living in Europe is no more
child's play. Gone are the days when we Africans thought we are welcomed with open hands. I would also like to use the book to tell Europeans and their western allies that isolating Africa and their problems is never the solution, but rather looking for a way to live in harmony with Africans.
Q: How do you convince thousands of Africans, particularly Nigerians
who are desperate to make it to Europe at all cost?
Emmanuel: One thing is to take a horse to the river; another thing is forcing
the horse to drink. I had the inspiration and impression that it would go a long way in convincing my desperate brothers and sisters that it's not easy over here. Many have perished in this European sojourn. Many have died in the hands of European police. I
strongly believe that if most of us would have stayed in Africa, the amount of sufferings we undergo would have being able make us more respectful citizens within the society. But, here many of us are subjected to daily discrimination and being labelled as criminals even without committing crime.
Q: How do you plan to bring this message across to the people back in Africa?
Emmanuel: I intend to travel to Nigeria sometime in June or July by special grace of God, and make a rigorous campaign in promoting the book. I would also connect with the Nigerian ministry of Education, Tourism, National Orientation agency and many other agencies to help spread the message to the grass root. I hope also to make connections with other African countries in course of the promotion.
Q: How does one get a copy of your book and the price?
Emmanuel: My book is already selling in e-book shops, Amazon, Barns and Noble
and other international bookshops. I'm planning in due course to extend it to Africa. The cost is presently at $23.95.
Q: Would this amount not be difficult for those in Africa to purchase the book?
Emmanuel: Of course, I'm planning to reproduce in Africa to bring the cost down. At the current rate of $23.95 I believe it exorbitant for the African market. I hope to find a retail price of around 1000 naira or thereabout.
Q: Success with your book and what is your next plan?
Emmanuel: Right now, the book is doing well as I have already done a public presentation of the book in Vienna, Austria and I am planning to present it here in Madrid, Spain and other Europe cities in the coming months. I hope to reach out to all African brothers and sisters in and around the globe. I wish to continue writing as I already have a follow up book coming out by the end of the year or beginning of next year by special grace of God.
Q: Thank you for your time
Emmanuel: I honestly thank you for this interview and wish you and your entire
crew God's kindness and protection as you continue to work for the promotion of African affairs and awareness.