Church, Tool For Development, Says Imoke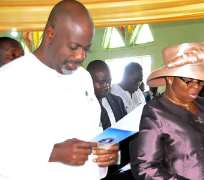 CALABAR, May 27, (THEWILL) - The church has been described as one of the veritable tools that can contribute immensely to the development of the society.
Governor Liyel Imoke of Cross River State stated this during the Democracy Day/Children's Day Church Service held at the Presbyterian Church of Nigeria, Usang Iso Memorial Parish, Akim Qua Town, Calabar.
In his remarks, Imoke urged adults in the congregation to reflect on their childhood and remember the times when parents planned for their children's future. He said children, as ever, still have prospects and great opportunities but their challenge is loss of values, which the state is already addressing by setting up a Department of Orientation and Public Affairs. He harped on the need to encourage them to imbibe set values and rebuild the society.
On democracy, Imoke noted that a change will come because the era of cultism in politics is gone and it is no longer a credential for public office. He disclosed that it is the determination of the state government to bring development to every facet of the society, which is what democracy is all about.
The governor, who read the first Bible lesson, Nehemiah 2:11-20, awarded a six-year-old girl, Aruku, who read the second Bible lesson on behalf of children, government scholarship from nursery school to university, for exhibiting brilliance, intelligence and accuracy while reading the Bible.
The minister-in-charge, Presbyterian Church of Nigeria, Usang Iso Parish, Rev Effiong Johnson, in his sermon, Arise and Build called on all to be players and not spectators in the quest for the building of a better Nigeria.
Johnson, described, Mrs. Obioma Liyel Imoke as the modern-day Mary Slessor, and commended her for creating destinies for abandoned children by raising them.
The Cleric wandered why Calabar, which was the first capital of Nigeria and also referred to as Canaan, the land of milk and honey, has lost its qualities. The answer, he said, is a call for a rebuilding.
On Democracy Day cebrations, he advised that God should be the centre of the celebration because democracy is a pledge between the government and the governed.