GOC CHARGES SOLDIERS ON SEXUAL CONDUCT IN DARFUR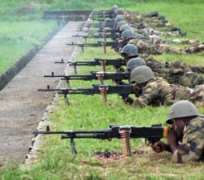 Another troop of 800 officers and men of the Nigerian Army have been prepared for deployment on peacekeeping mission to Darfur Region of Sudan, with a stern warning to stay away from sexual misconduct. The 26-battalion troop was also warned to avoid circumstances that may lead to being disarmed by the Darfur rebels and guard against any act that would tarnish Nigeria's image.
General Officer Commanding (GOC) 1 Mechanised Division Nigerian Army, Major General Garba A. Wahab, gave the warning at the graduation ceremony of the 26 Battalion Pre-Deployment Training at the Nigerian Army Peace Keeping Centre (NAPKC), Jaji, near Kaduna, yesterday.  According to the GOC, 'as you are aware, Nigeria is the largest troop contributor to the United Nations Mission in Darfur (UNAMID) operations. In this regard, you should strive to live above board and avoid anything that would ridicule the good image our dear country has built over the years in the area of international peace and security.
'As your General Officer Commanding, I have confidence in your ability to execute your task in accordance with UNAMID's mandate. But, I must remind you that the Nigerian Army will not accept any situation where its soldiers are disarmed hence the need for effective leadership at all levels,' he said. Noting that the situation in the crisis areas of Sudan were unpredictable, Wahab told the peace keepers to avoid engaging in any form of sexual misconduct, saying, 'don't go to Darfur and start sleeping with women. It is highly unprofessional. Aside that, AIDS is real,' he warned. He stressed that having expended huge resources on their training, the Nigerian government placed high premium on their capability as a peace-keeping force.
'As such, your performance must be of the highest standard,' he added. Earlier, Commandant of NAPKC, Major General John S. Zaruwa, said the troop received an appreciable level of training to ensure effective performance in any peace support operation theatre. Represented by his deputy, Brigadier General Abubakar A. Tarfa, the NAPKC Commandant said: 'Considering the volatility of the Darfur operational environment, the troop has been equipped with Advanced Rifle Marksmanship and Field Training Exercise to deal with the challenges.'
Highlight of the occasion was the troop's demonstration of fitness.