Denrele Edun wants a wife who shouts in the morning & wears high heels ALL THE TIME …plus 19 other things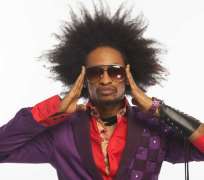 Are we the only ones who are seized with dread anytime we see the headline of an interview with TV presenter and red carpet fixture, Denrele Edun? You just know for certain that he will say the very first thing that pops into his head, and it's not always the smartest thing.

Like today's interview with the Punch. Or maybe it's understandable. When you've been called gay for so long, and someone asks you about marriage you overcompensate. Call this the first in our new series: The Weird Interviews of Denrele Rajeev Edun Volume 1.

Denrele's wife, in his own words:

1."She has just got to have a flat tummy."
2."She has just got to have long legs."
3."She has just got to have a slim figure."
4."I need a woman who will like me for who I am: a weirdo."
5."I need a woman who will not try to change me because she will never succeed."
6."She must be neat."
7."She must be the type that wears clean underwear."
8."She must be ready to wear high-heeled shoes all the time like me." (Does he wear them high-heeled shoes when he's playing daddy and mummy?)
9."The woman I will say, "Yes I do" to must not be afraid to flaunt her sexuality." (Em, considering the meaning of 'sexuality' does that mean she has to let the world know if she is, say, straight, lesbian or transgender?)
10."I mean, if a man doesn't look at my lady, there is something wrong somewhere."
11."So, she must be a head turner."
12.She must be able to cook because I like good food.
13."Importantly, the lady that I will give the wedding ring should have a wild streak because I wake up every morning with a loud shout."
14."I expect my idea woman to do the same." (what kind of shouting does a married couple do in the morni— Oh. Never mind.)
15."I like my woman to have a reading habit."
16."She must be in love with books."
17."She should be able to talk because I am a chatterbox."
18."She must…"
19."I expect…"
20."I need…"
21."I demand…"

Give her a cape, a Marvel Comics name, and her own superpowers and it's apparent – Denrele wants a female "Avenger".

Thankfully, all this is just by the way. Because, you see, even though he tells the interviewer he is "a ladies' man", he also says: "I've not achieved my goals yet. I'm still young. And to admit the truth, I'm too scared of the commitment of marriage right now."

Darling, if we had your kind of list – we'd be scared too.