Why Funke Akindele Secretly Performed Wedding Ceremony With Almaroof**Get 'Khadijat' As Islamic Name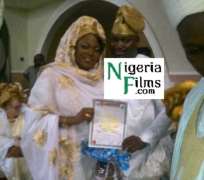 It was shocking to many who have been following the controversies that trailed the wedding announcement of Nollywood actress, Funke Akindele to her hubby, Oloyede Kehinde Almaroof. Since the news broke last week, many tongues have wagged. Her fans lambasted her over her choice to settle down as Almaroof's second wife
Many did not expect the wedding to happen just two days to the announced date, Saturday, May 26. Though the Nikkai, which is an Islamic wedding, may have taken place yesterday Thursday, May 24, but many are still in shock from it.
A source close to the couple disclosed to Nollywoodgists.com why the Nikkai was performed yesterday.
According to the source, Funke had to perform the Nikkai in order to be regarded as a wife under Islamic believes. We were told that if she had not performed it, she would have been regarded as a concubine.
This is what we were informed is obtainable under Islamic doctrine, which her husband, Almaroof practises.
Also, if the Nakkai had not been performed, Funke wouldn't have been able to cook for Almarrof during the Islamic fast period called Ramadan.
This is because women regarded as concubines, especially those married with the Nikkai rites performed for, are seen as concubines and are not qualified to cook for their husbands during Ramadan.
Telling Nollywoodgists.com further, the source disclosed to us that the Nikkai had to be done to subdue controversies their planned wedding have generated. We also learnt that the strategy was just to neutralise controversies and negative reports written about them.
The traditional wedding will still hold tomorrow, Saturday, May 26 at All Season Plaza, Ikeja Lagos.
Meanwhile, the source told Nollywoodgists.com that Funke Akindele has been given 'Khadijat' as her Islamic name. A cursory look at the meaning of the name gives 'born prematurely'.