ABDULKADIR NAMED YOUTHS MINISTER, BOLAJI MOVES TO SPORTS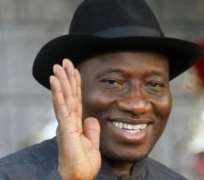 Civil service commission gets first female chairman
President Goodluck Jonathan yesterday deployed Inuwa Abdulkadir, the newly sworn Minister  from Sokoto State, to Ministry of Youth Development.
He was deployed shortly after his swearing in at the Council Chamber of the State House, Abuja, before the commencement of the weekly Federal Executive Council meeting.
Abdulkadir replaces former Sports Minister Yusuf Sulaiman from Sokoto State, who resigned his appointment from the cabinet to contest the gubernatorial elections in the state earlier in February.
With the appointment of Abdulkadir, former Minister of Youth Development, Bolaji Abdulahi, who has also been overseeing sports, now retains the Sports Ministry as the substantive minister.
Jonathan also yesterday swore in Deaconess Joanna Ayo Oluwatose from Oyo State as Chairman of the Federal Civil Service Commission along with five other members.
The members are: Alhaji Ibrahim Mohammed (Kaduna), representing Kaduna and Katsina states; Dr. Garba Buwai (Zamfara), for Sokoto, Kebbi and Zamfara states; Yahaya Yusuf representing  Bauchi State;  Mohammed Hamidu Babanka (Taraba), for Gombe, Adamawa and Taraba states, and Alhaji Rafiu Tinubu (Lagos), representing Lagos and Ogun states.
The ceremony was also attended by Sokoto State Governor Aliyu Wamakko and families of the appointees.
Speaking after the oath taking, Jonathan urged the new chairman and members to collaborate with the Head of the Civil Service of the Federation to regain the glory  of the  service.
He decried the poor attitude of civil servants to work as well as their disloyalty to politicians .
'Sometimes civil servants are even accused of frustrating political office holders deliberately.
'There are stories where some civil servants in the parastatals made silly comments as 'Soldier go, Soldier come, barrack remain' which is a reference to the saying that ministers and permanent secretaries will go and come, but civil servants will remain.