Hypertension Chased Me Out Of BigBrother Stargame--Ola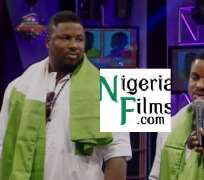 Though it is no longer news that Nigeria's representatives in the downville section of the BigBrother Africa Stargame Season 7, Ola and Chris have been evicted from the house because of illness but the nature of the illness might be news.
According to Ola, who requested to leave the house on health grounds, he told some journalists today, Wednesday, May 23 that he left the BigBrother house due to high blood pressure (BP).
He said he chose to leave the house because he felt health was wealth.
Asked if he had any history of hypertension, Ola told journalists that he was never hypertensive.
Telling what could have triggered the rise in his blood pressure, Ola said it could have been activities he had to go through in the house.
Representative of MNET, the organisers of the show, Femi Fayose, told journalist that housemates were medically checked before getting into the BigBrother house.
He said health complications sometimes just arise due to some activities, which could have been the case for Ola.
According to his pair in the house, Chris, it was easy for him to agree with Ola to leave the house on health grounds.
Chris said, $300,000 is no match to my friend's (Ola) life. I don't feel like he killed my chances of winning the competition. It is what destiny has for us."
Both Ola and Chris said they would venture into entertainment industry. They said the exposure and fan base they have gotten from the show would be judiciously used.
Goldie is the only Nigeria's representative left in the house. She is in the upville section, which houses celebrities from the chosen countries.