YAKOWA LOCKS OUT COMMISSIONERS, PERM SECS FOR LATENESS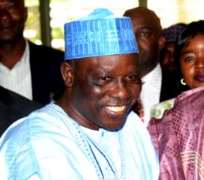 Governor Patrick Yakowa of Kaduna State yesterday locked out commissioners, permanent secretaries and other civil servants in the state for resuming at their duty posts after 9am.
It was gathered that Yakowa, who embarked on an unscheduled visit to three ministries in the state, expressed disappointed over the situation.
At the Ministry of Rural and Community Development, the commissioner, Isa Umaru Turunku and the permanent secretary in the ministry were not on ground. Most of the directors were also not around at the time the governor visited. Only cleaners and messengers were present.
But at the Ministry of Works and Transport, the commissioner and the permanent secretary were in their offices. It was a similar case at the Ministry's of Land and Survey.
Addressing newsmen after the visit, Governor Yakowa said henceforth, commissioners would be held responsible for any shortcoming in their ministries.
'Government officials and civil servants must be alive to their responsibilities. This carefree and lukewarm attitude towards work must be changed because service delivery must improve for us to deliver. I embarked on the visit to remind the state workers that resumption time is 8.am. You can just be collecting salaries and allowances without working to justify what you are earning. You always talk about salary increment without talking on how to enhance service delivery in the state,' Yakowa said.