Hollande Faces First French Banking Test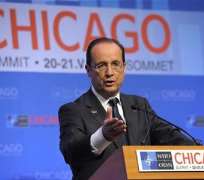 The fate of a struggling small French mortgage lender will be the first banking test for President Francois Hollande, as he attempts to deliver on campaign promises of economic growth and tougher financial regulation.
Policymakers and bankers are scrambling to avert an outright collapse of Credit Immobilier de France, whose future was thrown into doubt after Moody's cut its standalone bank financial strength rating and said it was no longer viable without support.
CIF does not take deposits and relies on bond markets to fund operations, leaving it perilously exposed during the euro zone debt crisis.
For Hollande, who declared the world of finance his enemy, the costs of nationalizing CIF would be as much political as financial, with parliamentary elections coming up and the threat of tougher regulation still ringing in bankers' ears.
"There are social and political ramifications ... Nobody is really able to pin down exactly what would be the size of the potential fallout," said a Paris-based property banker.
"If you let one bank go under, people will always start to look at who is next on the list."
Though CIF is only considered a niche player in France - with 2,500 employees and 41.6 billion euros ($53 billion) assets at the end of June 2011 - its demise would put the spotlight on bigger rivals such as BNP Paribas and Societe Generale, as markets assess the threat of a potential Greek exit from the euro.
Two top French banks, SocGen and Credit Agricole, own subsidiaries in Greece and face a hefty bill if the debt-laden country falls out of the euro zone.
SocGen's Greek unit Geniki would need 450 million euros capital, while Credit Agricole unit Emporiki would need 5.1 billion, according to Deutsche Bank research.
"QUICK AND CLEAN"
Such risks mean Hollande will have to tread carefully with CIF to avoid spooking markets or setting a precedent that would prove politically and economically risky.
"It is a difficult situation," said a Paris-based banker to financial institutions. "It is in the interest of the French banking community that a solution is found to take over CIF in a quick and clean manner."
The likeliest outcome is seen as a nationalization by stealth, via a merger with state bank Banque Postale, a solution already used in cases such as the break-up of Franco-Belgian bank Dexia.
Hollande campaigned on the theme of bringing lenders to heel by curbing their more risky activities, most likely with a functional separation akin to a French version of the American "Volcker Rule", which will restrict U.S. commercial banks from certain kinds of speculative activity.
He also pledged to effectively channel more household savings to state bank Caisse des Depots for government-backed projects.
Bankers have reached out to Hollande's team to argue against both measures, and analysts say their position may be strengthened by the perception that it is niche players, not big universal banking groups, that are most at risk of collapse.
($1 = 0.7860 euro)
REUTERS